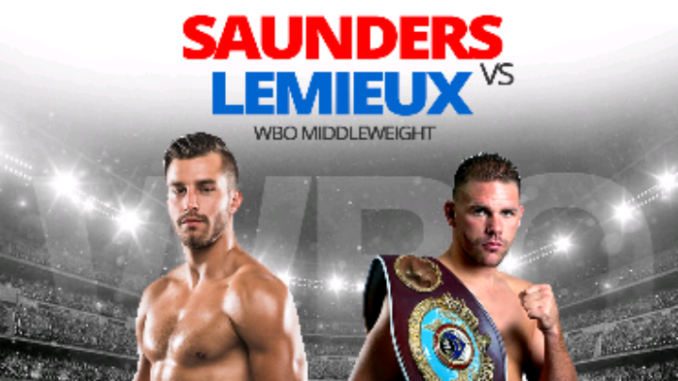 An In-depth Look At Saunders/Lemieux
Emerging from the shadows and approaching here comes another big match up this weekend. WBO Middleweight champion Billy Joe Saunders of Hatfield, U.K. makes a 3rd title defense against former IBF belt holder and Montreal native David Lemieux here on December 16th.
The crafty southpaw travels to Canada in his second outing under new coach Dominic Ingle. After a listless performance in his match with Artur Akavov, Billy Joe returned to peak form under Ingle, most recently vs. Willie Monroe Jr. Appearing fit and ready, Saunders showed his class winning on points to remain undefeated.
Lemieux on the other hand, aims for a fifth straight win since ceding his IBF gold to unified 160 lb. champ Gennady Golovkin. The challenger has already made waves in 2017 with a potential KO of the year victory over Curtis Stevens in March. Following that, Lemieux appeared in support of Canelo/Golovkin vs Marcos Reyes. He looked sharp in dominating a game but overmatched Reyes. Trainer Marc Ramsay should have Lemieux prepared and highly motivated in his second crack at a world title.
Let's examine the pluses and minuses on each side. Saunders displays a technical superiority along with less ring wear. Lemieux has a clear edge in professional experience and quality of opposition as well as jarring power, always the great equalizer.
A reigning champion with no shortage of confidence, the Englishman should be favored going into this title fight. However the Quebecois' home crowd will even that playing field to a certain extent. Keep an eye on the judging. With a number of controversial decisions in the sport as of late, could that be a factor?
This match up can help us answer some remaining questions we have about both middleweights. Is BJ truly an elite member of the division? This will give us an indication. It is his most perilous title defense to date. Lemieux is an aggressive minded puncher with a formidable home town advantage. How BJ performs could be a real gauge to where he stands in relation to Canelo & GGG.
Can David Lemieux take another step in his quest for glory?  He must show more than a straight laced attack if he hopes to dethrone the wily Saunders. Billy Joe has to be on his game as well. A slip could be ruinous.
As like other major prize fights, the promotion of this event has left something to be desired. On the heels of an unsatisfying conclusion of Canelo/GGG and Saunders' lackluster win over Monroe, Saunders/Lemieux flies under the radar. However it may go a long way in shaping the future landscape of this division. There is a genuine dislike between the two combatants. Lemieux the knockout artist, Saunders a slippery counter punching type. Their combination of styles should make for an exciting clash.
The stakes are quite high. A potential date with Canelo or Golovkin might be in play, as their much discussed rematch has yet to be finalized. Broadcasting live on HBO Saturday (9:40pm EST) offers them a prime chance to make a statement in front of the boxing world. The victor can punch his ticket to a bigger dance with dreams of fame and fortune. While the vanquished is left out in the cold.
By: Jacob Ellis