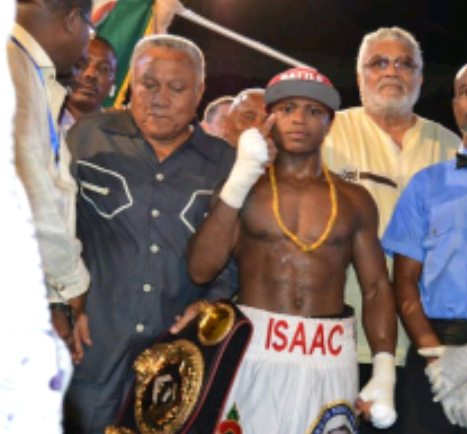 Dogboe Stops Juarez
---
Isaac Dogboe received the opportunity to fight for the interim WBO super bantamweight title against Cesar Juarez because regular champion Jesse Magdaleno was injured. Tonight he took advantage of that opportunity by stopping Juarez in the fifth round.
In the opening round Dogboe came out slinging left hooks to both the body and head. He fought like he had no intention of this fight going the distance.
In round two Dogboe continued his assault. The Ghana native landed a left hook to the head that dropped Juarez with a little under 1:50 left in the round.
Rounds three and four almost mirrored each other as Juarez become more active. Dogboe was able to fight well off of his back foot and easily landed combinations inside of Juarez's wider punches.
Round five was more of Dogboe landing solid counters while displaying good movement. With exactly one minute left in the round Dogboe once again found a home for his left hook as Juarez stumbled backwards and fell down. Referee Tony Weeks decided he had seen enough and called a stop to the action.
With the interim title now around his waist and his sights set on Magdaleno the future looks promising for Isaac Dogboe.
By: Chris Henderson