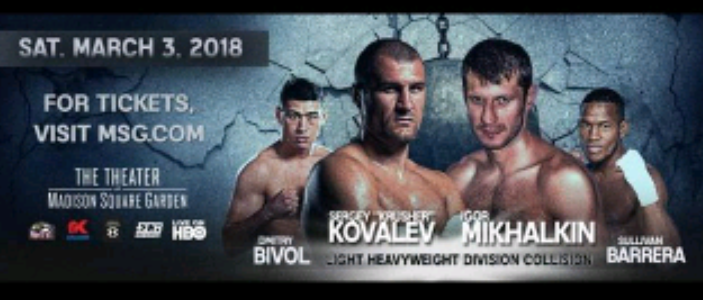 Alexander improves to 12-0
---
On the undercard of Sergey Kovalev/Igor Milkhalkin from The Theater at Madison Square Garden Vaughn Alexander (12-0,8KOs) took on Devaun Lee (10-3,5KOs) in 10 round Super Middleweight bout. In the first round Alexander came out throwing his jab and landed a couple of nice shots to the body as well. In the second round it was Lee pumping his jab out there and landed a couple of nice combos but Alexander stayed calm and seemed to put the pressure on Lee in the second part of the round. The third round saw Alexander pinning Lee against the ropes and letting his hands go landing shots to the head and body.
In the fourth round it was Alexander landing some big shots again to Lee's body and head, Lee however seemed game as he kept moving and staying behind his. Alexander landing big shot after big shot in the fifth but Lee had a flurry of his own landing a few clean shots. In the sixth round it became a phone booth fight as both guys stayed on the inside letting their hands go. In the seventh round it was Alexander landing combination after combination, hitting Lee with everything but the kitchen sink.
By the eighth round it was clear the Alexander was in control constantly putting pressure on Lee who has shown a tremendous amount of heart for a late replacement. In the end it was Vaughn Alexander getting a unanimous decision (96-94,97-93,98-92) over a tough but outmatched Davaun Lee. We can only wonder what's next for Alexander as he keeps his streak going.
Also Brooklyn's was native Frank Galarza (19-2-2,11KOs) scored unanimous decision over Noberto Gonzalez (80-72,79-73,78-74). Junior Middleweight Bakhram Murtazaliev (12-0,10KOs) defeated Kenneth McNeil (11-4,8KOs) by 5th round TKO. Meiirim Nursultanov (6-0,5KOs) defeated Alejandro Torres (9-4,4KOs) by 6th round TKO in a Super Middleweight bout. Heavyweight Cassius Chaney (12-0,6KOs) scored a first round KO over Tim Washington (6-6,6KOs).
By: Wilson Urena