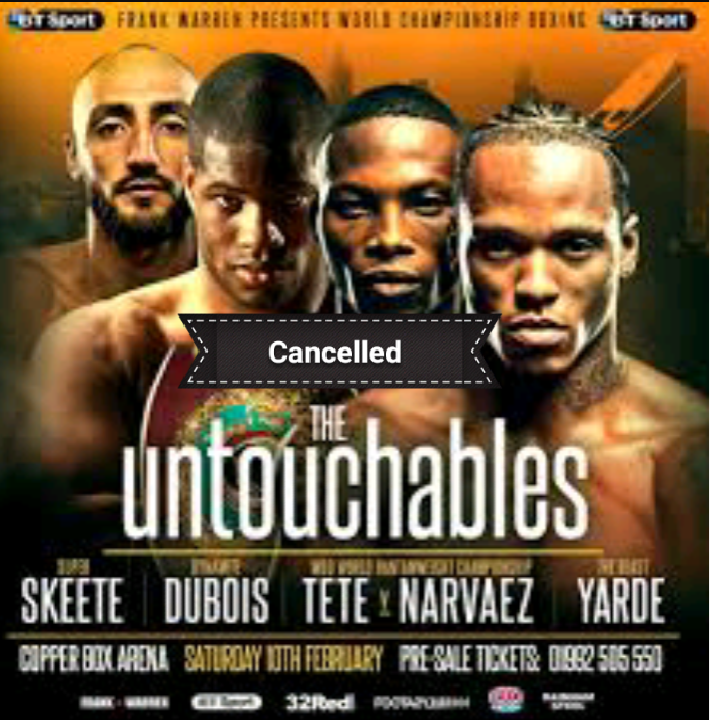 February 10th card cancelled 
---
In disappointing news Frank Warren has taken the decision to cancel 'The Untouchables' card that was scheduled for the 10th February at the Copper Box Arena in London.
Last week it was reported that WBO World Bantamweight Champion Zolani Tete had to withdraw from his scheduled bout with Omar Narvez citing a calf injury.
It is now being reported that rising Heavyweight star Daniel 'Dynamite' Dubois has been unable to train this past week due to an illness. His management team along with Frank Warren have felt it would be too great a risk for him to fight on this day whilst he hasn't been at 100%. Further compounding to the problems mentioned; the inability to match world ranked welterweight contender Bradley Skeete against another world level opponent at this late stage has led to the decision to cancel the card.
Frank Warren said: "We're in the business of giving value for money to the fans and our broadcaster, and unfortunately withdrawals have made this event one that would not have been as strong as the other events we have staged over the past year.
 
"As a result, we've made the decision to cancel the event to give the injured and unwell fighters time to recover.
 
"We of course apologise to the fans for any inconvenience caused."

 
Warren has announced a new date of 24thFebruary at Bethnal Greens world famous York Hall. We at 3kingsboxing.com will bring you more details of this as and when it is announced.
By: Aaron Cooper