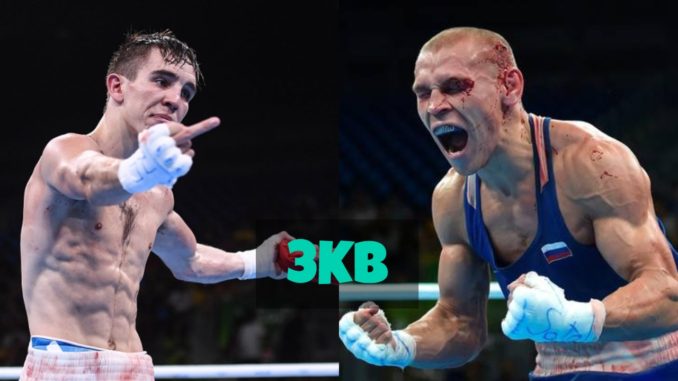 Michael Conlan vs Vladimir Nikitin: Olympic Rematch set in the pros!
---
The two will finally meet again three years after what many feel was a very controversial decision in the 2016 Olympic Games! Now two professional prospects, Michael Conlan and Vladimir Nikitin will have their rematch August 3 in Belfast, Ireland.
In the second round of the 2016 Olympics, Conlan was on his way to what is still a highly anticipated battle with Shakur Stevenson in the semifinals after busting up Nikitin's face in a dominant performance. However it wasn't to be after the judges scored in favor of the Russian fighter.
Afterwards, an upset Conlan flipped-off the judges and ripped the Amateur International Boxing Association (AIBA). He also accused Russian president Vladimir Putin of paying off the judges so Nikitin would win.
The middle-finger pose went viral all over social media as fans scoffed at the decision of the AIBA! Although, the gift only lasted so long for Nikitin as he would be forced to withdraw from tournament due to injuries he sustained in the Conlan bout.
Now after three years, these two men will look to set the record straight on who's the better fighter. Both men have been vocal recently about having the rematch and it seems they will deliver!
This fight should be an explosive battle between bitter rivals looking to gain the upper hand on each now as professionals!
By: Jerrell Fletcher