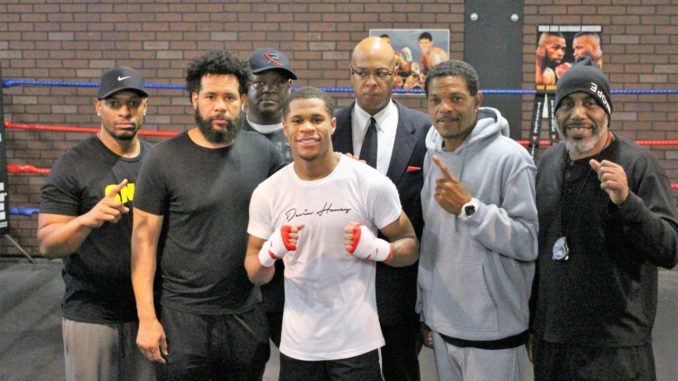 Devin Haney speaks on his preparation to headline the DAZN event May 25!
---
Highly touted undefeated lightweight contender, Devin "The Dream" Haney (21-0, 13 KOs), who is scheduled to face Antonio Moran (24-3, 17 KOs) at the MGM National Harbor in Oxon Hill, Maryland on May 25, held a media workout at City Boxing Gym in Las Vegas.
The 10-round main event will air live on DAZN in the US and Sky Sports in the UK as Haney is set to make his Matchroom Boxing USA debut. Tickets priced $40, $80, $150 and $250 (plus fees) are on sale now at ticketmaster.com or by clicking HERE.
Here is what Haney and his father and trainer Bill Haney had to say:
DEVIN HANEY
On his recent training camp
"This has been a really good training camp. We started camp in the Bay Area training with Victor Conte and sparring Amir Khan.

"I was able to get some elite work with not only him but Mike Dallas as well. So, I started off strong in the beginning of camp, and when I moved camp back to Las Vegas, I was sharp.

"I just wrapped up my final sparring session before we leave for Maryland. I've put the work in, and my body feels great. "I'm ready to go."
On facing Antonio Moran
"Moran is a very tall fighter who brings a lot experience to the ring. I know he'll be at his very best. He's had two months to prepare for me.

"I'm prepared as well for anything that he's going to bring to on fight night. The fans watching are in for a treat."
On making his Matchroom Boxing USA and DAZN main event debut
"I can't wait to showcase my talent on DAZN and show my partners at Matchroom they made the right choice. I will prove I'm an elite fighter and I can rise to the competition.

"Making my DAZN main event debut in the DMV area is very special, I get the chance to fight in front of some great fight fans. I'm going to put on a great show.

"I have no doubt in my mind that I'm elevating the sport of boxing with Matchroom and DAZN by my side. We are changing the game. May 25th the world will bear witness."
BILL HANEY
On his relationship with his son Devin Haney
"Me and Devin have always had a great relationship. We respect each other and understand where the other is coming from.

"We have a plan and we are on the same page. He's had a great camp and fans can expect to see a fighter that's ready for a World Title."
On the recent signing with Matchroom Boxing USA
"Signing a Co-promotional agreement with Matchroom Boxing has been a blessing. Eddie Hearn is someone I have a lot of respect for.

"All the sacrifices DHP made as a team paid off when we inked this deal. Now it's time to show the world who the next superstar in boxing is. Together with Matchroom and DAZN no one will stop us."
On how his son matches up with Antonio Moran
"This is not an easy fight stylistically because Moran is so tall, I believe he is listed at 6'0. That's a little freaky for a lightweight.

"Needless to say this is the type of fight he needs. We want to show the world that Devin can make adjustments with any fighter out there.

"Antonio Moran has faced some very good fighters, but the world will see Devin is on a different level."
Press Release From: Devin Haney Promotions

Copyright protected by Digiprove © 2019
Acknowledgements: Mario Serrano & Devin Haney Promotions
All Rights Reserved