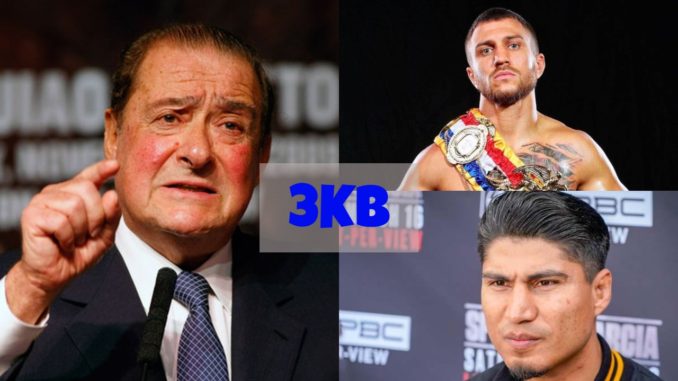 Bob Arum has spoken on his thoughts of making a Vasiliy Lomachenko vs Mikey Garcia bout!
---
After Vasiliy Lomachenko knocked out Anthony Crolla on April 12, he didn't hesitate to call out WBC champion Mikey Garcia again. It also seems like he isn't the only one on his team clamoring for this bout!
CEO of Top Rank and promoter Bob Arum seems like he is willing to do what it takes to get this fight done.
The bad blood between Bob Arum and Mikey Garcia is well known as well as the history of legal issues between the two. It stems from a contract dispute in 2014 that caused garcia to leave Top Rank and undergo a two year layoff.
"Fuck bad blood! Its all about the Benjamins and I would take joy in Loma beating the shit out of Mikey!"

Bob Arum – Top Rank Chairman
Well it seems like the ball is in Garcia's court now as he ponders whether he should return to lightweight, although, it seems like the other side is ready to negotiate. He has an exhibition for charity scheduled against retired four division champion and Hall of Fame Inductee Erik Morales.
If Garcia decides to vacate his WBC title and move down to junior welterweight, there are some good opportunities there. Arguably, they will not be as good as the super-fight that awaits him at lightweight.
He has a lot of pressure on deciding what his next move will be. However, if he has any bad blood towards Arum like it seems the latter has for him, he may take this fight personal and want to give one of his old promoter's top fighters another loss!
By: Jordan "Blake" Whitehead