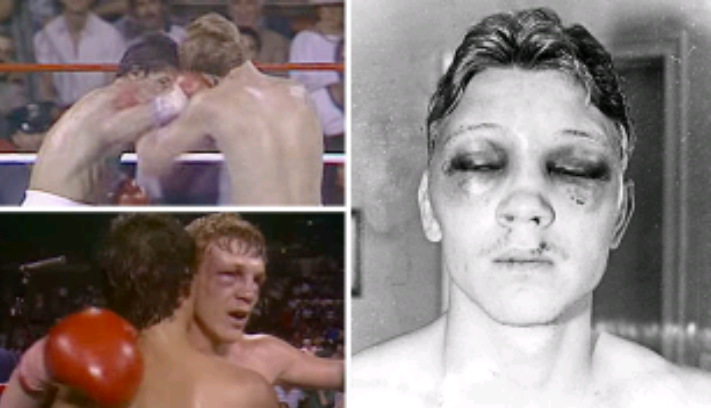 A Tragic Night In New York
By: Wilson Urena
 June 16, 1983 was supposed to be a "spotlight" type fight for Billy Ray Collins Jr., who was on his way to bigger and better things. He was considered a solid prospect with a record of (14-0, 11 KOs) and a promising future, his opponent that night was Luis Resto, considered by most a high end journeyman with a record of (20-8. 8 KOs).
Collins, a rising prospect out of Antioch, Tennessee was expected to have a future in the sport.
Resto, a former 2 time New York Golden Gloves State Champion, was considered a light fisted fighter with little to no real power and widely unknown outside of his home state.
The fight took place at Madison Square Garden on the undercard of Davey Moore vs Roberto Duran and was expected to be Collins coming out party so to speak.
As the fight went on everybody watching could quickly see this wasn't going to be "easy" spotlight type of fight that Collins and his trainer-father, Billy Collins Sr., was expecting. Resto appeared to be a man on a mission and he had no plans on letting Collins show him up in his own backyard.
By the middle rounds the punches had taken a visual toll on Collins. He said to his father, "it feels like he has rocks in his hands". When the fight ended it was apparent the journeyman had scored the biggest upset of his career. The victory celebration didn't last long however.
As Collins father approached Resto to congratulate him he felt his gloves (a moment that was caught on TV). He then frantically started calling for the commission representatives to check the gloves. The gloves appeared to be missing some padding. The New York Stat Boxing Commission impounded the gloves and ordered an investigation to take place.
After their investigation the commission ruled that Lewis' New York boxing license was permanently revoked, effectively banning him from any official role in American boxing for life. Resto was suspended indefinitely and never fought again. In 1986, Lewis and Resto were tried and convicted of assault, conspiracy, and criminal possession of a deadly weapon (Resto's fists); prosecutors felt that Lewis' actions made the fight an illegal assault on Collins. Both served 2 plus years in prison.
As a result of the fight Collins suffered a torn iris and permanent blurred vision. With the likelihood of him ever fighting again very slim at best, what was once a prominent bright future would now become a dark isolated life.  He become deeply depressed and started drinking.
On March 6, 1984, he committed suicide by crashing his car into a culvert near his home in Antioch, Tennessee, a suburb of Nashville. He was killed on impact. Many commentators, as well as Collins' family, believe that the loss of his livelihood broke him psychologically.
Collins will forever be one of those fighters that we will never know what he could've of been because he was cheated of that opportunity. His dreams were gone and with that the light at the end of the tunnel dims. One horrific act changed his life, robbed him of his soul and passion.
Billy Ray Collins could've very well been here today telling us all how he could've beaten Mayweather or Pacquiao. Instead, because of one horrendous act by Resto and Lewis it all became cheated dreams…..