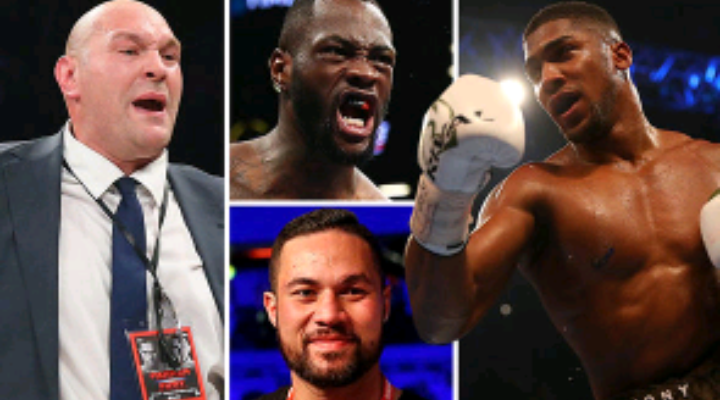 The State Of Boxing's Premier Division
The heavyweight division seems to be the land of all mouth and no trousers. All the big names (all four of them that is) are making a lot of noise but nothing is happening. My question to you all is who is the top guy in the Marquee division? And who ends 2018 on top?
Anthony Joshua is arguably the division's #1, he's certainly the biggest draw. But, there are still more questions than answers with Joshua's career. That's not to say he hasn't achieved much in his career so far. He is unbeaten in 20 bouts, he fought for a world title in his 15th fight, and he has sold out two huge stadiums and beaten Wladimir Klitschko.
But there are still doubters. Klitschko was 41 by the time they met and on his way out, and Takam should have been allowed to go out on his shield with Joshua fading badly down the stretch. There are also a lot of rumours flying around that Charles Martin was hurt going into their fight in April 2016.
With two belts and the guarantee of the biggest payday, AJ is the man they all want to fight. For the money, the potential of two belts and despite what his diehard fans might tell you he is certainly beatable.
New Zealand's Joseph Parker holds the WBO title, but in many eyes he is a weak and fortunate champion (I, like many believe he got a gift decision against Ruiz Jr). A 65/35% split has been offered by the Parker camp and as 3kings Boxing reported last week looks like the fight we will get made next.
With his astounding knockout power, Alabama native Deontay Wilder could prove to be every top heavyweight's most dangerous challenge. But with his power brings a wild form that even the boxing casual can see is exploitable.
 The American should have had challenging title defences against Alexander Povetkin and Luis Ortiz in the last 18 months only for failed drugs tests to cancel both bouts. Even at 39-0 with all bar one win by knockout, he has to withstand the criticism that he has no real names on his record.
Enter Tyson Fury. Like him or loathe him this division needs him. Videos of The Gypsy King back in training are flowing thick and fast and he has had more than a few choice words for his fellow heavyweights and Mr Joshua in particular. Arguably the most talented of the four names mentioned in this article beat the man who reigned for ten years, and until he either retires completely or gets back in the ring and is defeated is still the man to beat.
Outside of the land of die hard boxing fans, customers and viewers love the big men, they put asses in seats and we all desperately need these guys to find a pen!!