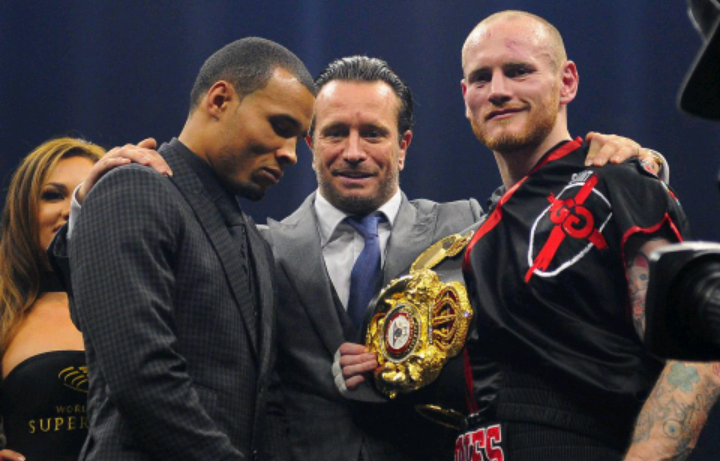 Groves vs Eubank Jr 
---
I've written previously about how Britain is synonymous with big nights and big fights in the Super Middleweight division. In the 90's we saw Chris Eubank Sr, Nigel Benn, Joe Calzaghe, Robin Reid & Richie Woodhall all gave us some great memories fighting each other for world honors.
More recently we've seen Carl Froch, James DeGale, George Groves and Paul Smith continue that trend.
Exactly five weeks from today in Manchester we will see yet another all British Super Middleweight fight. This time Chris Eubank Jr takes on George Groves for the latter's WBA 'Super' title.
This fight has generated a lot of discussion and, if you believe what you read you'd think that this is a forgone conclusion. The popular opinion is that Chris Eubank Jr wins this fight, and not only wins it. He stops George Groves … im not so sure.
Following his only loss to Billy Joe Saunders in November 2014. Eubank has reeled off 8 successive victories. Arguably the most impressive of those victories coming in his last fight. Knocking out Avni Yildrim in the 3rd round. There is a lot to like about Eubank Jr. He's slick, he is quick and he has a terrific work rate. You simply cannot deny that. You would also find it hard to argue with the fact that George Groves is the biggest man, and hardest puncher he has ever been in the ring with.
I've seen plenty of opinion out in the world that George Groves is a faded fighter. I'd actually argue that the link up with Shane McGuigan was the best thing for his career. Whilst it isn't perfect by any means his stamina has certainly improved. He thinks more about his work and doesn't engage in wars when he is hurt. He has stopped or knocked out 4 of his last 6 opponents, and the only man to stop one of his foes was Gennady Golovkin and it took him 11 rounds!!
How do I see the fight going? Make no mistake about it, both men believe they can win this fight and win it handily. George Groves has been here before. He's been in the big fights the big nights and he knows what it is all about. His experience on the world scene is something his opponent does not have. He is the bigger man and the bigger puncher.
Eubank Jr has the speed and the work rate to make life very uncomfortable for Groves. If Eubank Jr is allowed to set the pace then it could be a very long night for Groves. We know all about the questions around the champions stamina, he's answered them in recent fights. But his opponents were not Chris Eubank Jr. I myself have questions that need answering from the challenger. Groves is a HUGE super middleweight, weight classes exist in boxing for a reason. Eubank will be stood across the ring from a man that left Carl Froch on the seat of his pants! Not many men can lay claim to that.
I see a very cagey opening few rounds. Eubank Jr may be brash, but he is no fool. Don't let all the bravado fool you. He will be aware of his opponents punch power. Equally Groves will know Eubank Jr can outwork him and if he gets on the inside his work rate could tear the champion up.
I'm still on the fence. I can't pick a winner. As always I'm keen to get your thoughts on this.
By: Aaron Cooper