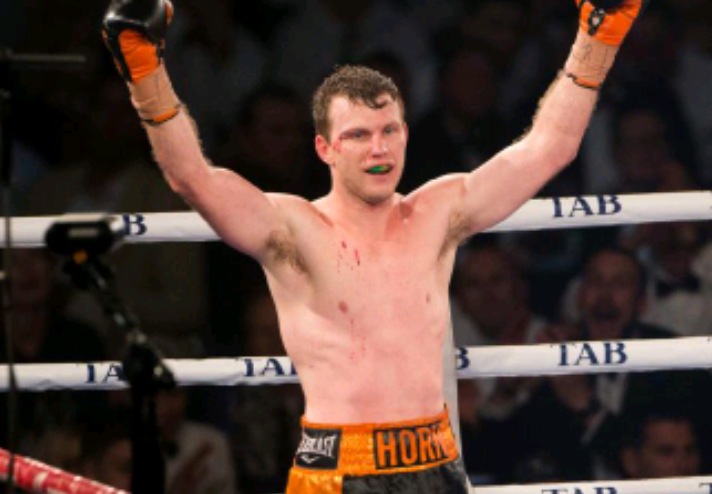 Horn Wins By Stoppage
On a early morning edition of Top Rank Boxing on ESPN  Jeff Horn (17-0-1, 11 KO's) put his WBO Welterweight belt on the line against Gary Corcoran (17-1, 7 KO's) in Brisbane, Australia. Both men came out throwing early on with Horn landing a nice jab that got Corcoran off balance.
In the second the fight got a little chippy with Corcoran doing some holding and hitting while trying to turn it into a rough fight, which caused the referee to warn him. The third round started with Horn landing a nice sharp combination, both men were letting their hands go. It seemed like the fight was turning into an action packed fight with a lot of holding and hitting.
The fourth started with Corcoran landing a nice right but both men seemed to be a bit wild in the round. Horn used his movement much more in this fight and was the more effective puncher. Corcoran however let his hands go and had his moments. By the fifth it seemed like Horn had found a home with his uppercut landing it a few times, while Corcoran kept coming forward. 
By the sixth both men had cuts over their eyes in a fight that was anything but graceful. The blood seemed to give Corcoran a shot of confidence as he kept coming forward applying pressure on Horn, who seemed bothered by the blood flowing from his left eye.  In the seventh Horn moved a whole lot more boxing well and picking his shots.
The eighth started with Horn landing some good shots while coming forward a bit more. Corcoran made life harder for himself with his lack of a jab. Horn was clearly the better boxer and seemed to have a better rhythm with Corcoran not doing much on the inside but smothering his own punches. By the 10th Corcoran was pinned against the ropes and let his hands go. Horn appeared to have Corcoran in trouble and seemed to be taking control of the fight. 
Down the stretch Horn seemed to sit on his punches more working behind his jab. With a cut above the left eye of Corcoran and him taking some punishment the referee decided to stop the fight giving Horn the TKO victory
It wasn't exactly the most graceful fight but Horn got the job done and looks like he will be facing Terence Crawford next. Crawford, the WBO mandatory said he's willing to come to Australia to get the belt. Corcoran was game but Horn was better and it was apparent.
By: Wilson Urena