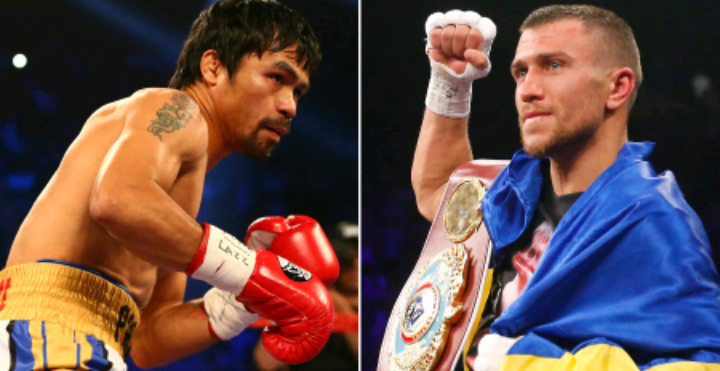 Boxing is a Business first and the promoters are the CEO's
---
With Jorge Linares and Vasyl Lomachenko in the works, it looks like Bob Arum is trying to pass the torch to Lomachenko. Should Lomachenko beat Linares don't be surprised if gets to face eight-division champion Manny Pacquaio, a legend well passed his prime. It makes sense for a promoter to want to pass the torch, so of speak, to someone within his stable. It's also a fight that Pacquiao's trainer, Freddie Roach, has stated that they're very interested in.
Pacquiao has been rumored to be fighting in April against Mike Alvarado. It will be his first fight back since losing the WBO Welterweight title to Jeff Horn. Is having Pacquaio face a high caliber, much younger fighter in Lomachenko too much of a task? Perhaps, but for Top Rank is makes all the business sense in the world. Manny looked a step slower against Horn even though many felt he won the fight. It was a sign of an aging fighter who would of danced circles around Horn just a few years ago.
To his credit, Lomachenko and his team have showed very little interest in the fight saying they're divisions apart. However Top Rank will push for this fight not because it's in the best interest of the fighters but because it's in the best interest of the company. Beating an aging Pacquiao would give Lomachenko a popularity boost among the casual fans but wouldn't do much with the die hard fans that look at Pacquaio as a done fighter. Arum really wants this fight, ESPN seems to really want the fight and I hate seeing a legend being used as a pawn.
Perhaps not knowing how to walk away Pacquiao is either looking for one more day of glory or money, maybe both. In my opinion there's no need for him to even entertain this, he should retire and walk away with nothing else left to prove. However, one thing about fighters is that usually boxing is done with them before they're done with boxing. A living legend will be looking to shock the world against a Hi Tech fighter that has a nack of making his opponents quit. It's a fight I don't want to see but a fight that we might just get.
By: Wilson Urena