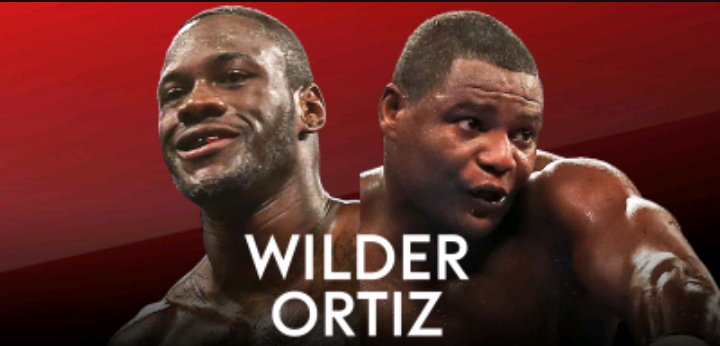 WBC heavyweight champion Deontay Wilder and challenger Luis Ortiz are expected to fight March 3rd at the Barclay's Center in New York according to recent reports. The two were scheduled to face each other November 4th but due to Ortiz failed drug test Wilder faced former champion Bermane Stiverne instead.
Earlier this month we saw Ortiz comeback to the ring after a missed a opportunity that he can't blame on no one but himself and his team. Failing to disclose his medication for high blood pressure was a big mistake at the worst moment. You would think being enrolled in the WBC drug program for awhile now that such an oversight would not happen and it may give some pause as whether or not to believe it. 
After knocking out his opponent with Wilder on hand doing special commentary, Ortiz turned to him and started trash talking. The champion would come in the ring and go face to face with Ortiz. As both men stood in front of one another, Wilder told Ortiz:
"I'm going to bless you, with another opportunity you better not blow it."
According to Wilder's manager and co-trainer, Jay Deas, the Alabama native is most definitely serious about wanting to fight Ortiz.
Deas also said that Wilder is basically giving Ortiz a gift with this fight and I wholeheartedly agree. It can be a second chance that so many don't get and I hope Ortiz and his team realize that. 
Deontay doesn't have to give him a shot at the moment, but it also makes the most sense as far as having a credible opponent. With Joshua being linked to fighting Parker sometime in March or April, Ortiz is the best option available. Ortiz has caught a break and will finally get the title shot he's waited so long for. That is of course if they don't blow it..
It's a good fight and if Wilder can get passed Ortiz it gives him a credible name on his resume. The fact is not lost on the champion and perhaps realizing that at the moment he needs Ortiz as much as Ortiz needs him. With that said however, kudos to the champion for giving a man an opportunity that no one cared if he got. With the cloud over Ortiz he could of easily stayed away, faced someone else and no one would've cared. 
From Ortiz viewpoint he must take this opportunity and run with it, make the best of a chance at redemption. Most importantly make sure him and his team are forthcoming with VADA so he can be there on fight night.