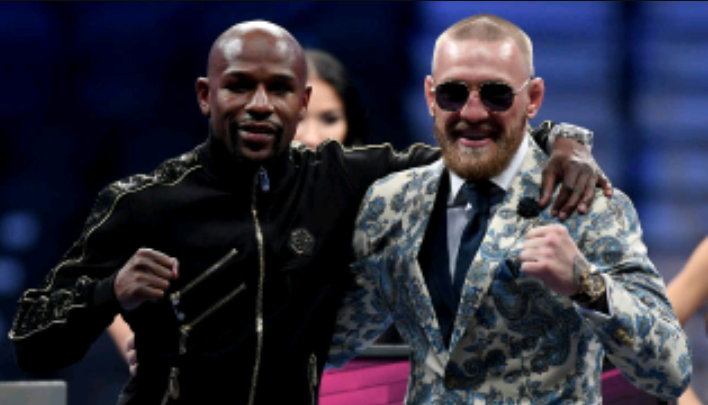 Recently rumors have been running rampant over Floyd Mayweather and whether or not he may participate in a UFC event against Conor McGregor. Floyd most recently has said that he could make close to if not over $1 billion dollars in the UFC.
Of course those numbers seem a little inflated to say the least but for even half of that I'm sure the thought has to weigh heavily on Mayweather's mind. A half a billion dollars is enough money to make the most adamant mind rethink things.
Originally it was brushed off as Floyd being Floyd just talking about his thoughts on the matter. It seems however there is actually some validity to his interest in joining the UFC.
UFC president Dana White has confirmed Floyd's interest in making the crossover from boxing to the UFC.
"Yeah, he's f—ing crazy. I told him he'd get killed but he's still talking about doing it." said White.
There have been numerous rumors on whether Mayweather would return to boxing, with even some sources close to the man they call 'Money' saying that a comeback was definitely in the future. Various videos of Mayweather training have surfaced and the chatter has come along with them but a move to MMA would be somewhat of a shocker.
There's really only one fight that could generate even close to the kind of numbers Floyd mentioned and that's McGregor. The Irishman moved over to boxing for their mega-fight back in August in which Mayweather won by a 10th round stoppage. 
Make no mistake about it a MMA fight between the two biggest names in combat sports would most definitely sell and sell very big for sure. There's at least 3-4 million buys from boxing fans that would pay just to see Floyd more than likely lose. As sad as it sounds the Floyd detractors would somehow feel vindicated even if wasn't in a boxing ring.
We shall wait and see but if we know anything, it's that Floyd loves nine figure paydays and this is definitely one of those…
 By: Chris Henderson