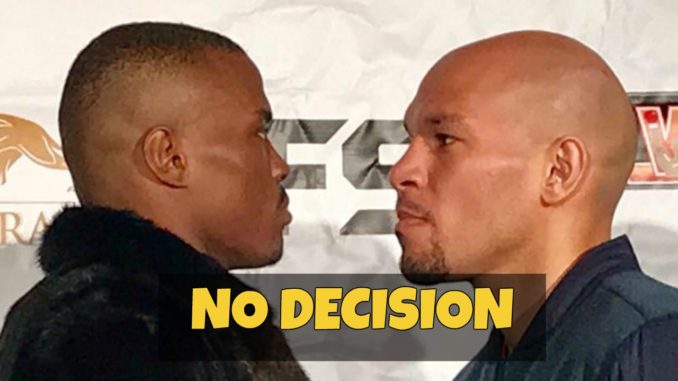 A cut from a head clash causes Peter Quillin vs Caleb Truax to end early!
---
Peter Quillin (34-1-1, 23KOs) and Caleb Truax (30-4-2, 4KOs) are fighting to position themselves among the contenders in the super middleweight division.
This is an IBF title eliminator so as a boxing fan you get everything you can want, high stakes in an evenly matched fight between two former champions.
The fight opens exactly as expected. Quillin on his back-foot probing; feeling out with his jab with his righthand at the ready.
Truax coming forward looking for openings to exploit. However with just a minute passed in round two both men stepped in to deliver a shot, resulting in a violent clash of heads.
The clash opened a massive cut on the brow of the native Minnesotan. He would finish the round, but would only sit on his stool for seconds when the Doctor called off the fight.
Since the bout did not go a full four rounds, it is automatically ruled a no decision!
This is the worst possible result for both fighters. With both on the back nine of their careers a win here was a necessity.
It's really unclear as to what's next for either man, although, both mentioned they would not mind agreeing to a rematch.
By: Corey Cunningham