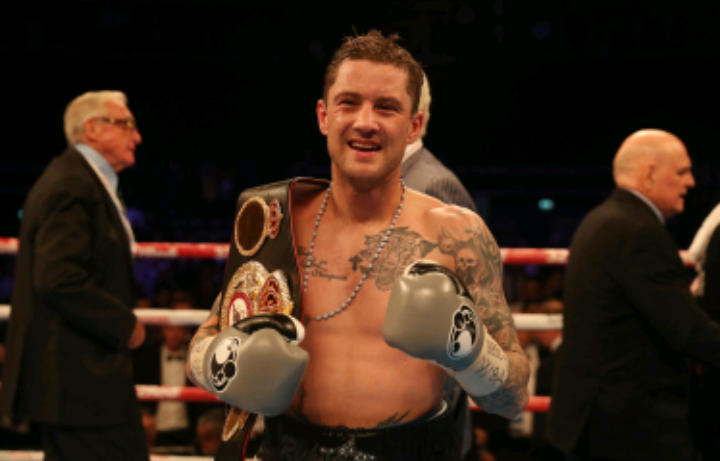 Despite Not Winning In 2017 Burns Is Ready For A Big 2018
Former three division world champion Ricky Burns is coming off of back to back losses but feels he has plenty left in what has been a pretty successful career to date. 
The Bellshill, Scotland native won his first world title in September 2010 when he become the first man to defeat Puerto Rico's Roman 'Rocky' Martinez in his 31st professional fight for the WBO super featherweight championship. Burns successfully defended that title three times before moving up to lightweight.
In November 2011 in his first fight at 135 he beat Michael Katsidis to become the WBO lightweight world champion. In his fourth defense of his belt he had an all out war with Mexican brawler Raymundo Beltran that ended in a split draw. He showed every ounce of his heart plus some as he suffered a broken jaw during the second round but continued to battle for ten more stanzas.
After suffering the jaw injury didn't prevent Burns from facing current pound for pound frontrunner Terence 'Bud' Crawford in his very next fight not even seven months later. The fight was the American's coming out party as he was able to hand Burns his first loss in 23 fights and over seven years.
Burns would go on to lose 2 out of his next 3 to former lightweight champion Dejan Zlaticanin and Omar Figueroa Jr.
2017
To say Burns didn't have his best year in 2017 would be an understatement. He kicked off the year by losing his WBA junior welterweight title to Julius Indongo on April 15th followed by another loss to make him 0 for 17′.
The Indongo loss was his first in five fights since losing to the highly touted prospect Figueroa in 2015. He rebounded nicely from the Figueroa loss to capture his third division title and win the 140lb WBA belt against Michele Di Rocco a year later after a couple of tune-up fights.
Most pundits questioned whether or not Burns was looking at his best days in the rearview mirror after losing his title. He took a couple of months off then got back in the gym as he prepared for a move back down to lightweight.
He returned in October to take on former WBA world champion Anthony Crolla. For most observers he didn't appear to be the same Rickster he had been when he was as recently as the previous year when he defeated Kiryl Relikh. Pundits and fans felt it was close to the end for Burns following the loss to Crolla.
Not done Yet
  At 34 and 49 fights deep into a career that's over a decade and a half long former two division world champion doesn't have any intentions to slow down now. 3KingsBoxing.com got the chance to hear what Burns himself thinks about retirement at this stage.
"It has never crossed my mind," he says.
What about four years ago after fighting for 10 rounds with a broken jaw against  Raymundo Beltran?
"Honestly, never – not even when I was in hospital with a broken jaw."
"As bad as that was back then, I still wasn't lying thinking that was it. It was funny, I came back up from the theatre after surgery, I had the pain and was all wired up. It was really touch and go whether I would be able to fight again. I could barely speak but I wanted to know when I could be back – not if I would get back. Even then I wasn't ready mentally to call it a day. I feel the same way now. My family supported me. Obviously they hear things like a broken jaw and they are worried. But I was fine. It was a case of, right, get it healed and get back in. I put it down to a one-off. It was hard going back into sparring but it was more psychological. I wanted to get hit – properly. That might sound daft and I knew there was a chance it would be painfulif it went again. But I just wanted to know if the jaw was up to it again. It was a barrier but I got through it."
"Everyone kept telling me I had to win or I would be finished. That was all the talk. I kept being asked about it and it was doing my head in. I wasn't looking at it that way. I might have lost but I think I showed I still have something to offer.
"I'll decide when it's time to call it a day. I'll know. If my face was a mess each day in sparring or I was getting beaten up badly in the ring then that would be me. I've still got my looks! My nose is a little bit bashed but it's not too bad considering the years I've been in the ring."
"When I look back at my record and at the old fights it's amazing how long I've been going. I turned pro at 19, took a year out at one stage and then got back. I started boxing at 11 and had my first fight at 12 so I've been doing this for 22 years."
"I'm looking at having an exciting 2018. I'm back at light-weight and hopefully there will be more big fights to come. I'll take anything on, world titles, European titles, the British – I'll fight anyone."
We don't know for sure if Ricky Burns ever wins another world championship or even another fight for that matter but what we do know for sure is he damn sure won't quit.
By: Chris 'Bone' Henderson