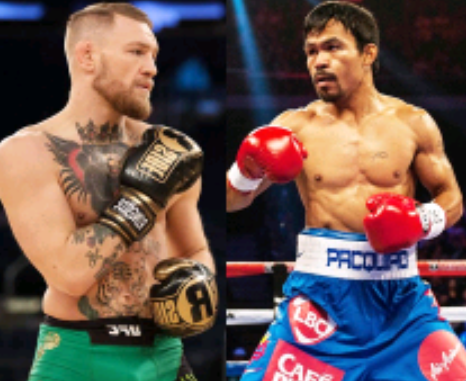 Pacquiao Wants McGregor But…..
 After speaking to the superstar last week 3KingsBoxing.com reported that Manny Pacquiao had confirmed that initial conversations between him and UFC star Conor McGregor for a possible fight had taken place. It seems every "name" in the sport of boxing has done a complete flip-flop on McGregor in gloves being good for the sweet science.
McGregor, who fought Floyd Mayweather in his professional debut on August 26th, has all of a sudden THE desired opponent for everybody within 20 years and 20 pounds of him.
No one was more dead set against May/Mac than Oscar De La Hoya, who went as far as bashing the fight in an open letter on social media. Now that the money "numbers" have all come in, boy oh boy how different the "Golden Boy" feels. De La Hoya started by saying that Canelo is the best fight next for the Dublin native to now Oscar himself wants the fight. How do you spell hypocrite? O-S-C-A-R? 
Its didn't stop there as names like Vasyl Lomachenko to most recently Pacquiao have expressed an interest in McGregor as an opponent. The Filipino superstar not only asked for the fight the new way, on Twitter, but behind closed doors as well by actually opening communications with Team McGregor for possible negotiations for a fight.
Within 24hrs of 3KingsBoxing.com running the original article where Pacquiao confirmed the talk between the two teams UFC president Dana White publicly stated that was nonsense. However earlier this morning McGregor didn't deny the talks with Pacquiao took place but did say that his next fight will be Mixed Martial Arts.
McGregor said, "I get lots of offers. I think a true fight is what I want to do next", before adding, "MMA next".
McGregor  also shut down the notion he might also wrestle in the WWE, saying "F**k WWE".
I think we can take the Irishman at his word safely enough here simply because people inside his team knows he stands very little chance against any of the aforementioned boxers in a boxing match and none of those guys present the chance for him to make anywhere close to "Mayweather money". Professional fighter's whether it be boxing or MMA are not fond of getting embarrassed but for "Mayweather money" they ain't too much fighter's or anybody won't do.
If Conor McGregor steps back in the red with 8 or 10oz gloves on you can rest assured the only person you will see in the blue corner is the man known as 'Money'.