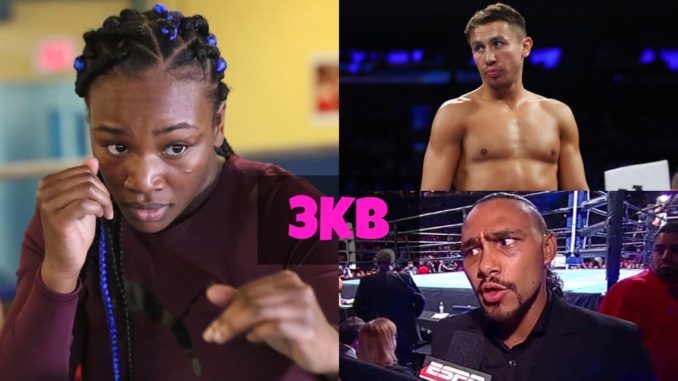 Newly crowned undisputed queen Claressa Shields has gone to calling out some of the top male fighters on the sport!
---
Undisputed women's middleweight champion Claressa Shields says she can beat welterweight champions Keith Thurman and Shawn Porter, as well as, former unified middleweight champion Gennady Golovkin.
This "idea" comes from her many sessions of sparring with men to prepare herself for bouts in the past.
Now before we start, there have been women fighters in the past that have mentioned having the ability to defeat male fighters. Therefore, this is not a knock on Shields, but more so an "illuminating moment."
Why She Is Saying This
She has expressed in a past interview with 3kingsboxing.com, TMZ and other interviews, as well as, over social media how much damage she has done to men in sparring. Therefore, it is logical she would believe she could transfer this into a professional bout.
Now that you all are done laughing let me tell you why this makes no sense whatsoever. Of course we will dissect this given the men who are in and around her division respectively.
There is no doubt Shields is a very talented fighter evident by her being a two time Olympic Gold Medalist and undisputed champion in under ten professional fights.
So What's The Problem?
However, sparring and partaking in a professional bout are TWO DIFFERENT THINGS! If she were to call out some of the lower-tier fighters in the men's circuit (the D and F level fighters) who are brought in as debut fights for some highly touted prospect, we could consider her statement as valid. She may even defeat a C-level fighter or two.
Although, when we jump SEVERAL levels ahead and start talking about some of the best male fighters in the game, this is where it gets ridiculous. The physical strength alone makes it highly improbable she can compete with the elite level males.
Some Facts!
Also lets consider glove size and the amount of exertion in sparring. Fighters typically wear 16oz gloves and will only go about 60% of their normal physical exertion. However, in men's professional boxing at junior middleweight and higher (154 pounds+), they wear 10oz gloves. Therefore, much of the padding that protects her from feeling the true power of a hard-hitting male fighter would not be there and that same man will be giving her 100% of his physical and mental effort.
We all know both Golovkin and Thurman are two of the biggest punchers in the sport! Combined, in 70 bouts, both have knocked out 56 men! Furthermore, Golovkin has an 85% knockout ratio while Thurman is sitting at 73%.
More Facts For You!
Lets not forget that Shields doesn't posses the knockout power to really hurt the women she has been fighting. She is 9-0 but only has two knockouts to her credit. How would she keep the pressure of Thurman, Golovkin and DEFINITELY Porter off of her if her shots don't carry enough pop?
Moreover, remember she was dropped for the first time in her career by WBA junior middleweight champion Hannah Gabriels in their June 2018 bout. Understand Gabriels is the SMALLER fighter at 161 pounds being the most she has ever weighed in for a professional bout. Shields has weighed in at 167 pounds twice in her career.
We are not saying her chin is questionable, however, surely she would not be put on the canvas by a woman with a 50% knockout rate if she wants us to believe she could compete with men who have put other men to sleep!
Lets Sum This Up!
Boxing has divisions for a reason! While we see fighters move up in weight all the time and have success, there's also plenty of losses handed out due to the mere fact that even a man runs into size, weight and physical strength disadvantages that eventually catches up with them.
We respect Shields as a fighter and believe she's on her way to being an all-time great if not the greatest women's boxer. However, there's no way in hell she beats Thurman, Porter, Golovkin or any other elite male fighter in and around her weight class!
By: Jerrell Fletcher & EJ Williams