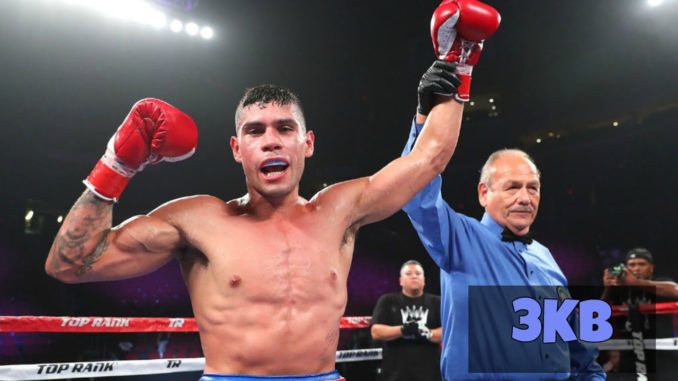 Junior welterweight contender Arnold Barboza Jr returns in a tough match-up!
---
Under-card action for the Vasiliy Lomachenko vs Anthony Crolla main event will include Arnold Barboza Jr. (20-0, 7KO) against former world champion Mike Alvarado (40-4, 28KO) in a 10-rounder.
Additionally, welterweight contender Alexander Besputin (12-0, 9KO) versus Alfredo Blanco (20-7, 11KO) in a 10-rounder for Besputin's USBA belt. Besputin is ranked No. 1 in the world by the WBA.
The card will also take place on ESPN+ but will begin at 8 p.m. EST.
Arnold Barboza Jr.
"This is a great fight for me on a great stage like the STAPLES Center and against a warrior like Mike Alvarado. He is a great fighter, but I come well prepared and ready to win this fight."

"We accepted this fight because I want to show the world that I am ready for the big fights. I want to show that I am ready to fight for a world title. I want to face the guy from Fresno.

"I want to take the title from Jose Ramirez or Maurice Hooker."
Mike Alvarado
On the irony of being the veteran fighting the young contender
"I was thinking about that the other day. I was fighting Cesar Bazan on the Margarito-Cotto 1 undercard in Las Vegas. I was like, 'This guy is hungry.'

"I knew then and there that I have to be more focused and dial in with my technique."
On what he expects from Barboza
"He's going to try and be real crafty and slick and whatnot. He's going to have to put on his goggles because we're going into deep waters.

"I'm going to bring in a different type of tactic, a whole different type of technique along with relentless pressure."
On returning to a big stage near the top of the bill
"It means a lot. I know in my heart that I'm ready for it. I deserve it. I've won six in a row, and I've earned my way back to this level. This fight will solidify that I'm ready to be a world champion again."
Alexander Besputin
"I am the WBA's top contender, and I want a title shot soon. This is a great opportunity for me on a big card to show everyone why I am a top welterweight.

After I win this fight, I want all the big names. The time for me is now."

"I am not overlooking Alfredo Blanco. He has won four fights in a row and views me as his shot to earn a top world ranking."

"I hope to see my Russian fans at STAPLES Center on Friday. It's been a long time since I've fought in Los Angeles. Los Angeles has some of the greatest fans in the world, and I want to put on a show for them."
Promoted by Top Rank, in association with Matchroom Boxing USA, tickets priced at $310.50, $207, $103.50, $77.65, $51.75 and $25.90 (including facility fees) are available now and can be purchased by visiting AXS.com.
Press Release From: Top Rank

Copyright protected by Digiprove © 2019
Acknowledgements: Top Rank
All Rights Reserved