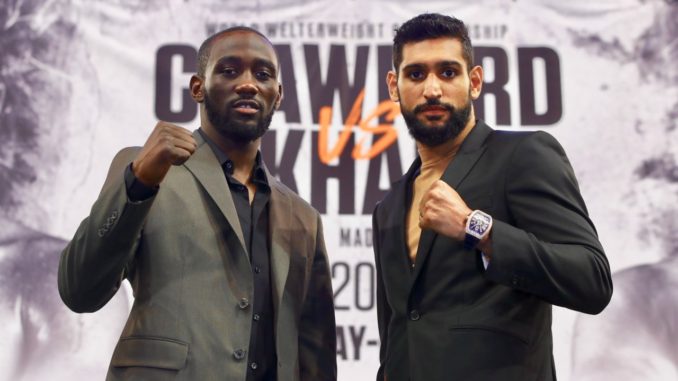 Amir Khan will look to win his first major title at welterweight against Terence Crawford!
---
On April 20, the boxing world will be treated to an intriguing welterweight match-up between Terence "Bud" Crawford (34-0, 25KOs) vs Amir "King" Khan (33-4, 20KOs).
Crawford currently holds the WBO welterweight title and was the first fighter in eleven years to become undisputed. He accomplished that in the junior welterweight division, as well as, holding the WBO lightweight title.
Khan is also a former unified champion at junior welterweight holding both the WBA and IBF straps. He is also a two-time WBA super champion in that division.
Khan's Game Plan
Looking at the approach each fighter might take, first we start with Khan. Most fans who follow the sport are aware that the Bolton native is one of the fastest fighters in the sport. This, however, has been both a blessing and a curse as Khan's speed has led him to commit costly mistakes leading to three defeats via stoppage.
He is also known for his faulty punch resistance, which has been displayed in numerous fights. In this fight, he is going to need to put in one of the most disciplined performances of his career. To come away with a victory, Khan is going to need to use his jab to set the table for his combinations and maintain distance. The UK fighter will also need to avoid becoming repetitive at all costs.
Khan will have to gamble intelligently; knowing when to hold them and when to fold them. The primary reason he gets hit with shots he can't see is that he engages too long and tends to get both repetitive and predictable.
Virgil Hunter, who'll be in Khan's corner, will be constantly preaching for him to vary his tactics. Another area Khan will have to make significant improvement upon is his clinching. The Bolton native has a bad habit of one armed clinches. This causes the referee to be less likely to break the fighters.
He will have the advantage in athleticism and he needs to use it to impose his tempo on the fight. That doesn't just mean speeding up the fight but, knowing how to slow the fight down. While that's a tough task against a fighter as polished as Crawford, it won't be as hard as it was against Saul "Canelo" Alvarez who had a huge advantage in physicality.
Most readers will look at the flaws listed as being insurmountable, however, that's not the case; it's actually quite simple. Khan needs to be himself, just a little less of it. If he can exercise some patience, this fight will be extremely competitive.
Crawford Game Plan
This fight has the potential to be the toughest for the Omaha native to date. Crawford is a very good boxing athlete and this might be the first fight where he isn't the better athlete.
Some might mention Yuriorkis Gamboa but, Crawford had significant advantages in height and reach in that fight. Here, Bud's only advantage will be in reach, where he'll enjoy a three inch advantage.
There's also a very overlooked factor in this match-up; the southpaw stance. Crawford has confounded his opposition with his switching stances. Khan has never lost to a southpaw and has won 29 of all 29 rounds he's boxed against his last three left handed opponents.
This potentially could play a major role in this fight as he seems to fight better out of the southpaw stance. Some of his less impressive performances have come when he didn't turned southpaw. Most notably his fights against Andrey Klimov and Thomas Durlome. Both were able to land their 1-2s and at times, keep him at bay with their movement.
Khan, strangely enough as an orthodox fighter, likes moving to his left. This is effective against southpaws but, this characteristic comes with a flaw. He is very susceptible to overhand rights. So, expect Crawford to use his reach to eventually create the space he needs to get this punch off and eventually hurt his opponent.
Prediction
The outcome of this fight will ultimately come down to patience and intelligence. Those advantages belong to the champion.
Expect for this to be a difficult fight for both men and early on, Khan will probably dominate. As the fight progresses, Crawford will make adjustments. As fatigue sets in for both fighters, it'll be Crawford's ingenuity that will decide the fight.
Somewhere in the championship rounds, look for Crawford to hurt and eventually stop the British fighter. For gamblers, this is a good fight to bet on. Khan is a 3.5 to 1 underdog so the smart play is to put a small bet on him and hedge with Crawford by late stoppage!
By: Corey Cunningham