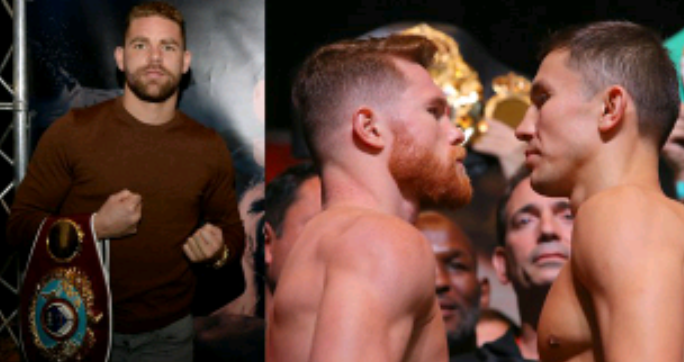 Image courtesy of BoxNation 
Golovkin vs Canelo /Saunders?
---
With the prospective rematch between Canelo Alvarez and Gennady Golovkin in in real jeopardy of being cancelled UK Promoter Frank Warren says that his fighter, WBO middleweight champion Billy Joe Saunders, is most definitely in play for a unification bout with Kazakhstan native. Warren did say however it would be date dependent due to a recent injury Saunders suffered.
"If the fight is ultimately aborted then the name of Billy Joe Saunders will be firmly in the frame as a potential opponent for the holder of the other three middleweight belts, but the prospect of this would be very much date dependent due to the hand injury that has disrupted his training as you would want to be anything less than 100 percent going in with Golovkin." said Warren.
Golovkin's team has stated recently that they are preparing for a fight on May 5th whether it be against Canelo or whoever. Golovkin's promoter Tom Loeffler has also mentioned Saunders as the preferred replacement should Alvarez not be allowed to participate.
It's hard to imagine that Team Golovkin wouldn't be in favor of readjusting the schedule a little bit for a possible unification bout. Saunders is the fight Golovkin most desires because it gives him the opportunity to become an undisputed champion. It's also realistically the biggest money fight as well for either guy with Alvarez out of the picture.
Warren also said that he feels the Nevada State Athletic Commission must do the right thing here a punish Alvarez.
"I think many people just assumed the hugely profitable party would go ahead regardless and the issue would simply be swept under the canvas."

"It did appear that the governing bodies were reluctant to do anything about it and it now seems it is down to the Nevada commission to take the appropriate steps and investigate the matter properly. It looks now like there will be some consequences – especially now it is public knowledge that Canelo failed two drug tests."
There's no doubt Alvarez vs Golovkin generates an exorbitant amount of money but that should not be the determining factor when the NSAC makes their final decision. There is a meeting scheduled for this Friday as 3KingsBoxing.com reported late last night. [link below]
Meeting To Be Held This Friday On Canelo's Future: Rematch Cancellation Is Real
It's unclear whether this meeting will be where the commission makes a final determination on Canelo's fate as there's also a meeting scheduled for April 10th.
By: Chris Henderson