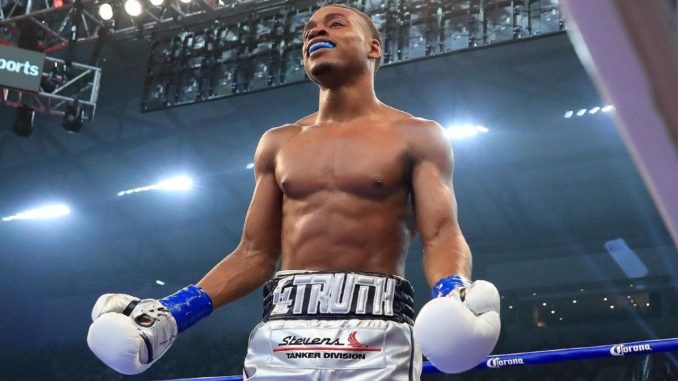 Errol Spence is shooting for greatness!
---
Errol Spence (24-0,21KOs) vs Mikey Garcia (39-0, 30KOs) for Spence's IBF welterweight world title has the potential to be historic. Garcia is looking to become a five division world champion and has chosen the most physical of the welterweight champions. While most would consider this a major upset, as fans you have to remember the pedigree that Garcia brings to the table.
As a four division champion with nearly forty fights, he's seen it all. With his talent, it's a risk he's warranted to take. For Spence, in a division with so many options, he's struggled to find a high profile match-up. Therefore, this is an optimal opportunity to fight on a PPV against a popular fighter.
The Breakdown
To start the fight, Spence immediately goes to jab; really utilizing it with probes as well as firing it hard. Garcia seems content to maintain distance and observe Spence. One strategic riddle to start the fight is Spence's lead. Garcia really is having issues getting around Spence's right-hand.
The pedigree of the four division champ is showing, with his lateral movement catching Spence off guard in spots. For knowledgeable fans, this fight is enjoyable as the craft and footwork of both fighters is showing. Going into round four Spence starts to sweep the lead hand into a hook and finally is landing his vaunted left-hand in spots.
One of the keys many expected was for Garcia to be able to counter Spence. However, the Texas native is showing more head movement and pivots than anticipated. Going into round six, Garcia is showing signs of wearing down and Spence is starting to employ a two-handed attack.
This is also creating opportunities vertically, as Spence is working the head and body fluidly. It's becoming apparent that the IBF champ is not only stronger, but a better boxer. His reach is also problematic, as Garcia is repeatedly getting caught in no-man's land. In round nine, the wheels have finally come off as Garcia is simply eating a barrage of punches.
The Championship Rounds
Between rounds, Garcia's brother and trainer tells him to he's going to stop the fight if he continues to take punishment. The championship rounds are simply a formality, as Spence beats Garcia from pillar to post inflicting damage.
Going into the final round, the champ's trainer Derrick James implores him to press for the stoppage. Spence, actually a little tired, continues to pressure the four division dynamo but ultimately runs out of time.
This fight was easy to score, as 120-108 seems to be the only possible scorecard. The official scorecards were 120-108 for two judges and 120-107 on the remaining card.
As for what's next, Spence told the crowd of 47,000 that he wants 8-division champion Manny Pacquiao next. Pacquiao was in attendance and entered the ring. The Philippine legend also stated he'd be interested in the fight as well.
Mikey Garcia has no reason to hang his head, as he still has a lot of options at both lightweight and super lightweight. With a little rest, Garcia can still capitalize on opportunities against Vasyl Lomachenko at lightweight or the WBSS winner.
By: Corey Cunningham