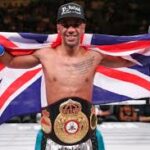 The Archives for tag: Kal Yafai.
This tag will categorize all content involving Kal Yafai.
Career Start: July 7, 2012 at super bantamweight.
Titles Held: WBA Super Flyweight.
Khalid "Kal" Yafai is a British boxer campaigning in the Super Flyweight division. He has held the WBA Regular super flyweight title.
He is the older brother of featherweight contender Gamal Yafai.