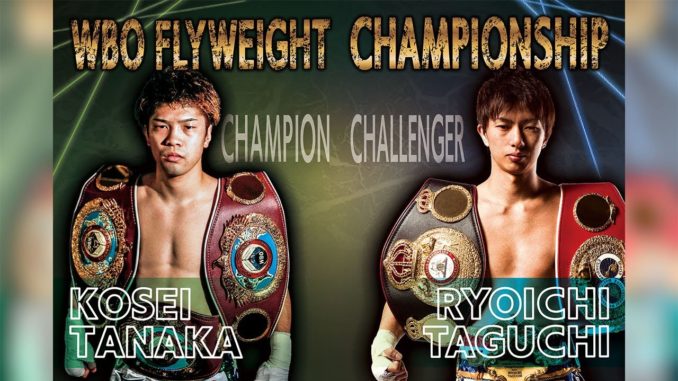 Kosei Tanaka and Ryoichi Taguchi will finally meet in a bout that was supposed to take place in 2017
---
While most boxing fans will have their focus on Errol Spence vs. Mikey Garcia March 16, a slept on flyweight title fight will take place on the same day in Gifu, Japan. This rumble at the lower division deserves some serious attention as undefeated WBO champion Kosei Tanaka will face fellow countryman Ryoichi Taguchi.
Kosei Tanaka (12-0, 7KO)
Age: 23
Location: Gifu, Japan
Making the first defense of the WBO title, Kosei Tanaka is also a former WBO minimumweight and light flyweight champion. A more than adequate boxer, Tanaka can fight with equal effect on the inside sporting a terrific body attack. While his modus operandi is to box, he's not afraid to sit in the pocket and fight. Along with Naoya Inoue, Kosei Tanaka is regarded as one best fighters in Japan and is gaining lots of consideration as one of the best pound for pound fighters in the sport!
Keys to Victory
Stay disciplined! Tanaka's greatest weakness is that because he's so competitive, at times the champ will choose to brawl rather than box. That reckless aspect about causes him to get hit more than he should at times.
Taguchi wants to have a war and Tanaka's greatest advantage in this fight is his speed and better skills. Therefore, his best route to victory is to apply a boxing mindset throughout.
Ryoichi Taguchi (27-3, 12KO)
Age: 32
Location: Toyko, Japan
Moving up in weight, Taguchi is no slouch of a fighter. A former lineal, WBA and IBF light flyweight champion, he brings plenty of credentials into this fight and has a full resume including being one of two fighters to take Inoue.
His game is to apply pressure in order to break his opponent down physically and mentally. Tall for a Flyweight (5'6"), his best asset is his inside game.
Keys to Victory
Find a way to get to his opponent's body. Tanaka has a habit of fighting when he doesn't have to. For Taguchi to have a chance to win, he must find a way to lure his opponent into one of those moments where he wants to engage and then strike with body shots.
The goal for the Tokyo native is to make this fight a war of attrition and hope that his physical strength and will to win takes over.
Prediction
Taguchi is no joke as a fighter. However, the issue is he's facing the "cream of the crop" at the lower divisions. Across the board Tanaka is better in nearly every department of the game.
Yes Taguchi is taller, but fights in a style in which he often does not use his height and reach to good effect. Furthermore, Tanaka has the much higher ring IQ. The former lineal champion is rugged and tough, but the Gifu native will show how good he really is.
Tanaka wins this fight by late stoppage.
By: Michael Wilson Jr.