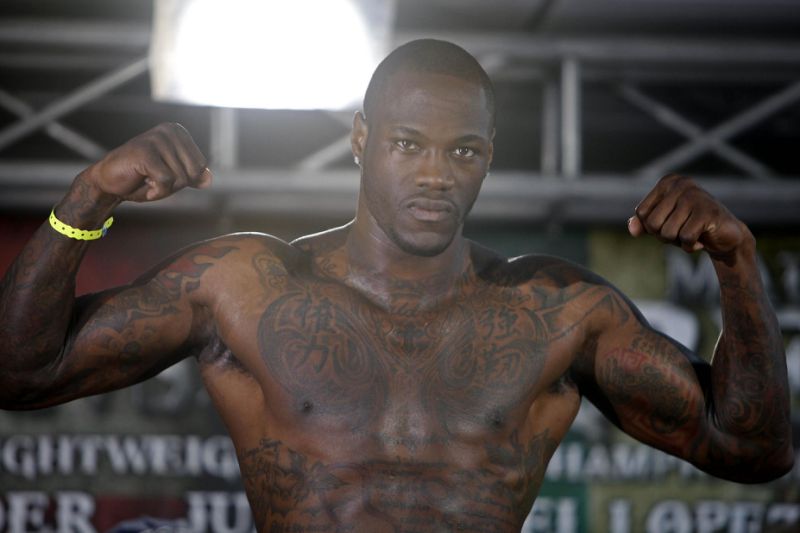 Wilder says he'll go anywhere to prove he's the best heavyweight in the world 
---
WBC heavyweight champion Deontay Wilder is set to take on Cuba's Luis Ortiz in a little over three weeks at the Barclays Center in Brooklyn, NY. He's currently in training camp for the fight but yesterday camp was open for media day.
Wilder, who is known for being a bit brash and outspoken, didn't miss a chance to call out Anthony Joshua. [Video Below]
"Ya'll looking at the best heavyweight in the world! And he right here, from America!…Ya'll fighting for heavyweights! Put 'em in the ring with me, see what's gon' happen! I'ma knock 'em out! I promise you that! Any heavyweight, listen, any one of you! And all you scrubs calling my name out, don't worry. Once I handle what I gotta do, I got you too! I promise you that."

"Anthony Joshua call everybody name but my name!…Anthony Joshua talkin' bout Dillian Whyte! He talkin' bout Jarrell Miller! He don't even mention Deontay Wilder's name. In fact he say I'm too easy. He says he'll ram his jab down my throat! No homo! He say he'll knock me out with one punch! But they don't wanna sign that contract though!"

"Here's the deal right here…I'll go anywhere! I'll go to his home! I'll go to his front yard!"
With Ortiz the fight right in front of Wilder at the moment, he made sure to include him as well:
"If [Luis] Ortiz lookin', Ortiz I'ma whoop your ass too, boy! I promise you!"
If Wilder is able to get past Ortiz and Joshua past WBO champion Joseph Parker we can expect the intensity to ramp up to unparalleled levels because Joshua/Wilder is perhaps the biggest fight that can be made in the sport right now. It's not likely that fight takes place next but one can hope can't he?
By: Chris Henderson