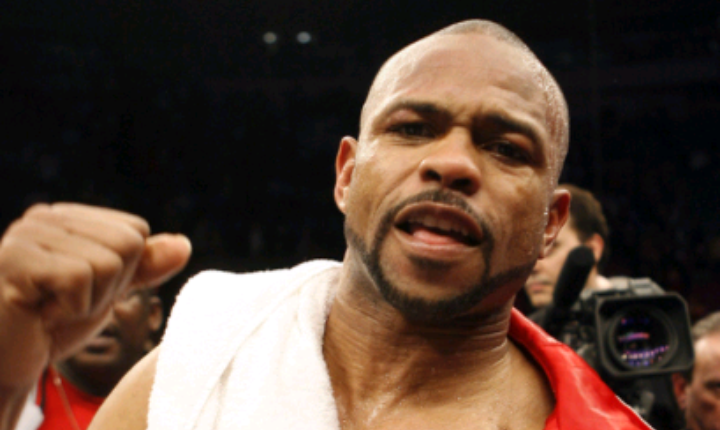 Image courtesy of  Roy Jones Jr Promotions 
Jones defeats Sigmon by UD and says he's done unless
---
Former six-time world champion Roy Jones Jr. ended his career in the ring last night in his hometown of Pensacola, Florida, hopefully. Jones defeated Scott Sigmon 98-92 in a 10-round cruiserweight fight at the Pensacola Bay Center.
Jones Jr., who has held world titles in four different weight classes from middleweight to heavyweight, was able to have a little fun while entertaining the crowd with smiles and a few of his infamous in the ring antics.
More of the same from @RealRoyJonesJr in the 2nd! Believe that is what you call a "no look" jab! pic.twitter.com/mLjPG8simv

— UFC Fight Pass (@UFCFightPass) February 9, 2018
After the fight Jones said he did suffer an injury during his preparation for the bout.
"I love each and every fan that came out to support me tonight, I knew Scott was tough, I knew Scott was game, and I knew Scott was gonna keep coming. I don't make excuses, but last week I tore my biceps in my left arm again. But because it was my last fight in Pensacola, I refused to pull out."
Coming into the fight the former P4P King had made it a point to tell everyone in the media and such that this would be his last fight. However, immediately following the bout last night Jones made it a point to address UFC President Dana White, who's promotion was responsible for broadcasting this fight for Jones Jr. on UFC FightPass.
"Dana, I know you're listening," he said. "I know Anderson's suspended. But that's the only other fight Roy Jones will return to the ring for. Other than that, chapter's closed."
A bout between Jones and MMA legend Anderson Silva has long been talked about but was somewhat looked at as a novelty act simply for entertainment purposes. But with the success of last year's Floyd Mayweather vs Conor McGregor bout rumors about a possible Jones/Silva fight have resurfaced. During an appearance on the Ask Gary Vee Show, the week of Mayweather vs McGregor, Jones Jr. said a boxing MMA crossover had been their idea.
"I'm still trying to fight Anderson Silva right now, me and Anderson Silva have been trying to fight way before [Floyd] Mayweather and [Conor] McGregor ever thought about this."
Silva is currently facing a lengthy ban due to multiple failed drug test. So a bout between him and Jones Jr. isn't likely to take place anytime soon at least not in America.
As a long time fan of Roy's I personally hope last night was the last time I ever see him fight. If so last night was certainly a fitting way to bow out, in front of his hometown fans. We've appreciated all you've gave us Roy…
By: Chris Henderson