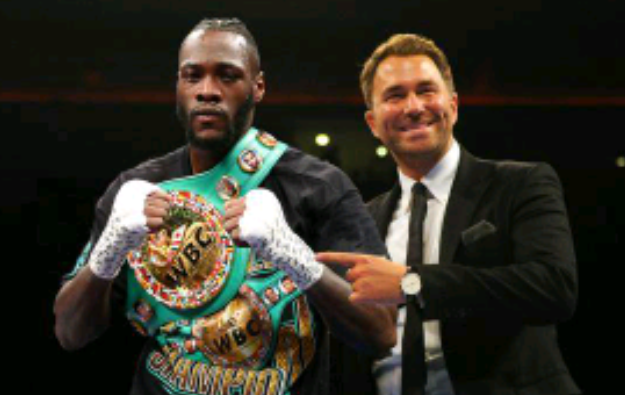 Hearn interested in Wilder/Breazeale bout on DAZN 
---
Eddie Hearn has stated should Deontay Wilder not accept the offer to face Anthony Joshua in England, a deal can still be reached for either December or February. He also stated he would pay Wilder twice as much as he has been making to fight Dominic Breazeale on DAZN.
Joshua needs an opponent for September and Hearn has been negotiating with two camps. It is expected that the WBA will mandate that Joshua face Alexander Povetkin, so Hearn put a two week deadline for team Wilder to either accept the offer or face someone else.
Povetkin and his team have been very vocal about wanting the fight but it's not the fight that public wants. The fans obviously want Joshua and Wilder to face each other to determine an undisputed champion in the heavyweight division.
Wilder and his team offered Joshua 50 million dollars guaranteed to face Wilder in America. However, Joshua is unwilling to leave the United Kingdom and would rather take less money to fight in front of his countrymen. Hearn and Wilder's team have been negotiating and perhaps could be close to a deal but time is running out. The "deadline" is the end of next week, hopefully they can get something  done.
In the meantime it's been speculating that Wilder and his team have Dominic Breazeale on stand by as a possible opponent. Hearn knows this himself and said that he is willing to host that fight on the streaming service DAZN, with who he recently signed a billion dollar contract for the American rights to televise Matchroom Boxing cards.
Hearn has a lot of dates to fill in the near future and would like to feature the WBC heavyweight titlist on at least one of those dates. The offer comes with no expectations of Wilder to sign with Matchroom. In other words, there are no strings attached and Hearn simply wants to feature him on the platform.
Wilder for his part has vowed never to work with Hearn and has said he has no interest to join Matchroom Boxing USA. The question now is would he be willing to appear on DAZN, make more money and not even have to sign with Hearn? That's a question that only Wilder can answer.
Truthfully, I hope both sides can reach a deal and we get a battle for heavyweight supremacy in September. If it's not done by this week then the sides will more than likely keep negotiating to try to make the bout by the end of this year or the beginning of the next year.
One thing is sure if Hearn makes the offer and is willing to pay Wilder twice as much as he has made without having to agree to anything as far as being promoted. Then, the champ has something to think about.
By: Wilson Urena