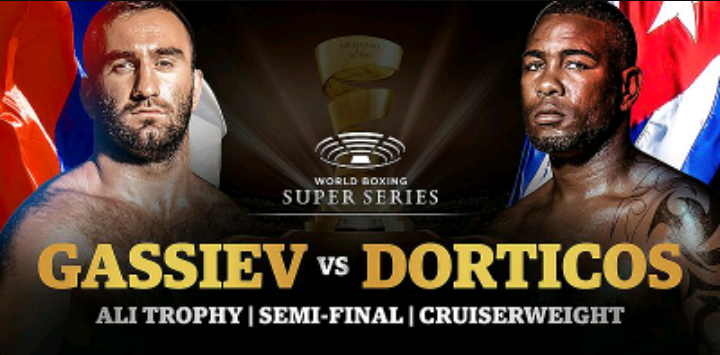 Gassiev vs Dorticos 
---
As we near the end of January, we turn our attention to a combustible cruiserweight tilt. Our semifinal stage of the World Boxing Super Series concludes February 3rd with a sensational scrap in Sochi. Russian native and IBF champion Murat Gassiev battles Cuban WBA belt holder Yunier Dorticos in a highly anticipated unification match. All of the ingredients are here to produce an explosive mix. It holds an extra degree of significance as both the #2 seed Gassiev and #4 seed Dorticos are undefeated. Here we look at how they measure up.
At only 24 years of age, Gassiev (25-0, 18 KOs) already has become a devastating force. The young Russian known as "Iron" has been shaped and polished under the tutelage of coach Abel Sanchez. Based in the San Bernardino Mountains of California, this camp location carefully chosen to keep out any distractions. An ideal spot for a prize fighter to sharpen their skills. In addition, preparing at elevation of 6750 ft may help facilitate increased production of oxygen transporting red blood cells. Utilizing this natural advantage has potential to improve cardiovascular endurance. Gassiev also counts longtime unified middleweight champion Gennady Golovkin among his training partners. A perfect illustration of the old phrase, iron sharpens iron.
By contrast, Dorticos (22-0, 21 KOs) and his team are set in Miami. While the regions are vastly different, results have been very much the same. Even with an unblemished record, the 31 year old WBA titlist known as "The KO Doctor" still appears to be somewhat of an unknown quantity. Looking past a sensational knockout percentage, it is fair to question Dorticos' quality of opposition at cruiserweight. The most noteworthy win would be his victory over Youri Kalenga, a former world title challenger.
If anything, this meeting should help answer any remaining questions we have about Dorticos. Trainer Eric Castanos draws a tough assignment here. Gassiev not just a murderous puncher. This young champ has emerged as a calculating pressure fighter. He cuts the ring off well. Also displays an educated jab along with some good variation in his offensive attack. And continues to improve. "The KO Doctor" should have those clinical skills tested like never before.
Although Dorticos claims to be 7 years older, he surrenders a decent amount of professional experience to his rival. Despite matriculating in the vaunted Cuban amateur system, Dorticos exhibits a more entertaining pro style. Though lacking elite foot speed he has demonstrated smart and nuanced footwork. With a natural urge to trade, he must show more defensive responsibility in this contest. It is a huge opportunity for him. My advice would be don't give it away.
Some things to consider as the action gets underway: How does Dorticos grapple with an application of constant pressure? This opponent represents a major leap in competition. Will he rise to meet his greatest challenge? One piece of advice would be to employ that reach advantage. Plus Gassiev hasn't navigated through much heavy weather at this latitude so far. Can he answer the call in time of distress? We just might find out.
Each made a lasting impression in their most recent performance. Leading into the semifinal stanza, Dorticos demolished Dmitry Kudryashov within 2 rounds. Gassiev folded former champ Krzysztof Wlodarczyk via crippling body shot in the third. With a final berth on the line, neither can afford to look ahead. They both must keep a laser focus. Losing concentration could be hazardous to either man's health.
In the opposite draw, #1 seed Oleksandr Usyk edged #3 Mairis Briedis on a razor close decision. Important to say this tournament unquestionably deserves more widespread acclaim. It has been first class all the way. Nothing short of spectacular for the sport. WBSS promoters have done a fantastic job. My only issue would be some lack of tv coverage in the States. As we inch closer to a conclusion of this bracket, excitement is palpable. Menacing clouds gather above the Black Sea. Loud thunder crackles from the sky. A violent storm advancing on the horizon.
By: 3Kings Boxing