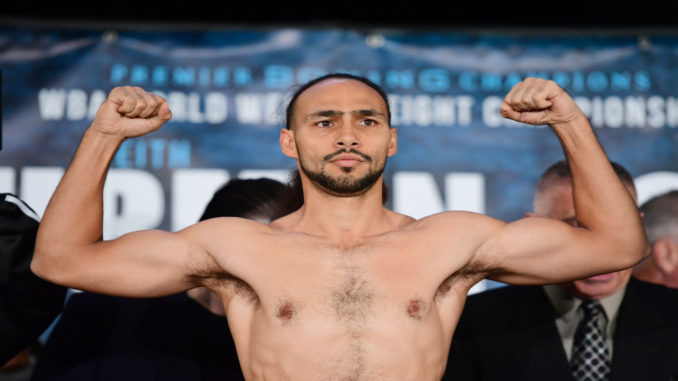 Keith Thurman returns with a win but the ring rust was evident
---
Keith Thurman came out looking like a man that hadn't missed a step despite being out for nearly two years.
The first half of the fight was all Thurman, as he came out moving in and out behind his jab. He landed thunderous right hands that snapped back Lopez's head continuously. In addition, he made bis opponent miss often while utilizing great lateral footwork and head movement as he boxed from the outside.
As the fight continued, Thurman would start to incorporate his right and left uppercuts that were very effective; making Lopez an easy target by when he would crouch and move forward.
Moving into the second half of the fight, the California native would start to make some great adjustments. He started committing to the body with hard left hooks that, in turn, caused the champion to slow down and become stagnant.
Round seven was huge for Lopez, as he hurt Thurman badly and was on the brink of an upset victory. Thurman would recover, however, he would find himself in a fire-fight as fatigue started to set in.
This is where the tide would turn and the fight would become very entertaining. From this point fourth, both men would trade and land huge shots. Lopez took full advantage of the fatigue plaguing Thurman due to the ring-rust.
Though he wouldn't have a huge round like he did in the seventh, the challenger would give the champion all he could handle until the final bell. He did an excellent job of taking Thurman out of the comfort zone he established early.
Would it be enough for Lopez to finally become a world champion?
In the end, Keith Thurman would retain his title via a majority decision. The scores read 113-113, 115-111, 117-110. A visibly upset Lopez reacted to the decision as if he believed he had done enough to take the title home.
With this fight now behind him, Thurman will set his sights on potential fights with WBA regular welterweight champion Manny Pacquiao. In the post fight interview, he made it clear he wants to take on the eight-division champion in what would be an excellent bout!
By: Jerrell Fletcher