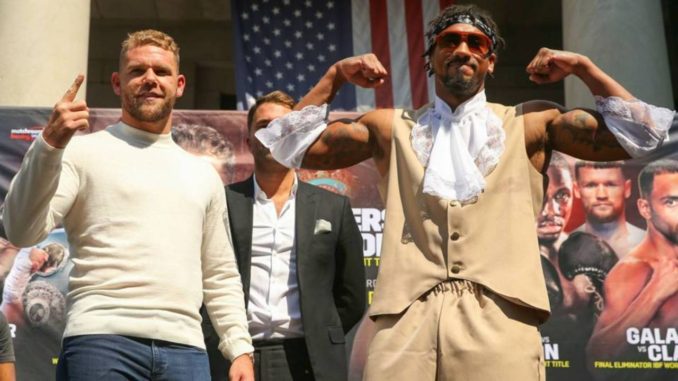 RUMOR CONFIRMED: WBO President Francisco Varcarcel decides to order Demetrius Andrade vs Billy Joe Saunders
---
Today the WBO officially announced the rumor we here at 3kingsboxing.com reported have come to fruition! WBO middleweight champion Demetrius Andrade will likely face a familiar face.
A ruling by the World Boxing Organization on Tuesday secured two victories for former champion Billy Joe Saunders. First, they cut Saunders' suspension in half, from six months to three. Second, they also named him the mandatory challenger to Andrade's title.
With Saunders as the number one contender, he and Andrade have until February 21 to come to an agreement to avoid a purse bid.
How We Got Here
For those of you who may have forgot about the fallout that prevented these two men from fighting back in October, here's a refresher. Saunders, the champion then, tested positive for the banned substance Oxilofrine prior to fight week.
This put the fight in doubt. After a hearing via telephone, the Massachusetts Athletic State Commission upheld their original ruling. Less than two weeks after that, Saunders vacated the title, paving the way for Andrade to face Walter Kautondokwa to claim the vacant belt.
On January 14 the WBO headquarters office received an official petition on behalf of Saunders.
WBO statement
"[O]n January 14th 2019, the WBO headquarter offices received an official petition on behalf of Mr. Saunders' legal representative Mr. David House, ratifying and evidencing the fighter's successful completion of all the imposed conditions set forth by this Committee.

"The evidence showed that Mr. Saunders engaged in active charity and community work with under-served and disadvantaged kids, submitted to numerous random anti-doping tests by the correspondent (drug testing) agencies, obtaining thereto negative results, and presently, continuous in good standing conduct in his community."

"[I]n light of Mr. Saunders' thorough fulfillment of our ruling, his legal representative request reinstatement of said fighter in the WBO World Ratings Middleweight Division, consequently, be rated at the number one (1) position and designated as the Mandatory Challenger in the aforementioned division."
Fights of this magnitude are often hard to make. However, both Eddie Hearn (promoter for Andrade) and Frank Warren (promoter for Saunders) managed to agree to a deal.
We'll see if it happens again this time, the roles of both fighters reversed! One question, however, is "where does this leave Gennady Golovkin?" As many know, Team Saunders has been trying to lure him into a bout for mid-late 2019.
Although, Saunders as he stated previously, wants nothing more than the opportunity to claim his title back!
3kingsboxing.com will keep you updated as more information becomes available.
By: Jerrell Fletcher