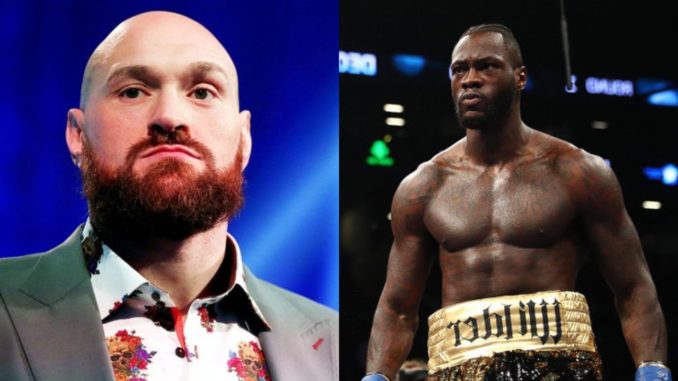 Tyson Fury decides to allow ESPN to showcase him in the U.S. before re-matching Deontay Wilder
---
There's been a lot of heavyweight news happening recently. You've had the press tour kick off for the June 1 between unified champion Anthony Joshua and Jarrell "Big Baby" Miller. WBC champion Deontay Wilder announcing he's a promotional free agent. Lastly, Tyson Fury announced his signing of a co-promotional deal with Top Rank/ESPN.
During Fury's announcement, he stated his immediate goal was to seek an immediate rematch regardless of his new deal. However, 3kingsboxing.com has learned there have been a change in plans.
WBC President Mauricio Sulaiman announced on Twitter they have informed the camp of Wilder that Fury has opted-out of an immediate rematch. Instead, he will fight in an interim bout and look to make the rematch in the fall.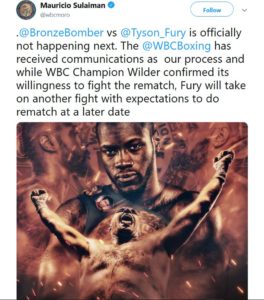 It's anticipated that Fury will fight in either May or June against an opponent to be determined. This interim fight is in hopes of gaining greater inroads and further capitalizing on the positive feedback following the first fight.
This news has a domino effect on the divisional landscape. Who will he fight instead? Early rumors are circulating that Fury could fight former WBO title holder Joseph Parker.
Wilder has since responded on Twitter.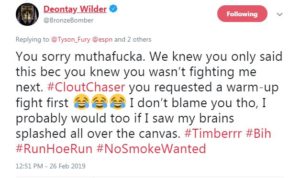 Where does this leave Wilder who is currently pondering an promotional offer from Top Rank? Could Wilder's next move be a grudge match against Dominic Breazeale?
Let's just say Wilder does fight Breazeale, that would scrap a potential bout between Breazeale and Dillian Whyte. To add more intrigue, what if Wilder decides to fight Whyte this summer given he is the #1 contender?
As of now, the only stable bout between two top fighters in the division is Joshua vs Miller. Like sands through the hourglass, so is the drama of the heavyweight division. Stay tuned to 3KingsBoxing to find out what's next for Fury, Wilder and the saga of the heavyweights.
By: Michael Wilson Jr.