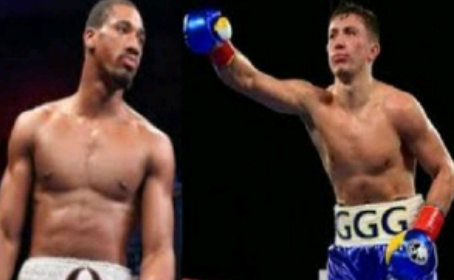 Andrade: "He's one of those guys to make that declaration with"
Demetrius Andrade wants a "big" money fight without a doubt. He has mentioned everybody from the Charlo twins, in the past, Canelo Alvarez, off and on for a couple of years, to Gennady Golovkin as possible opponents. The problem is he has as of yet to be able to even get close to sharing a ring with any of these with boxing gloves on. What we don't know for certain is what has prevented any of these fights from taking place but we do know the one common denominator in all of it is Andrade.
Andrade who just fought his first fight at 160lbs and the first of a three fight deal with HBO, in October. He was able to win a wide unanimous decision over Alantez Fox. Being in a deal with HBO does help ease the negotiation process with the likes of Alvarez or Golovkin. He says Canelo is and has been "ducking" him but he told On The Ropes Boxing Radio that a Golovkin fight would be a "declaration" type of fight for him.
"He's been fighting at that weight for a while now and he has almost every belt. I think he's only missing the WBO belt. He's doing a lot of things in boxing as far as making noise and making a name for himself. He's someone I would love to get in the ring with to showcase my skill and talent and see somebody who is a special one. He's definitely one of those guys to make that declaration with," Andrade said.
He said he has no doubt that he possesses the skill and ability to compete with and beat Golovkin:
"I just feel like I can do everything. I can adjust well — he can too, he's been around for a long time in the amateur program, so I know he has a lot of experience and he wouldn't be where is if he didn't have that experience. I believe you have to tune in and demand and keep speaking about this fight happening so you can see and understand what the results and the differential is between Golovkin and someone like Demetrius Andrade," said Andrade.
 This is a fight that seems like a long shot at best anytime soon with Golovkin in the process of trying to secure a rematch with Canelo. Even should those negotiations fall apart Andrade would seem to be a few guys down the pecking order right now in the middleweight division. Here's a concept; maybe why him and Jermall Charlo are waiting their turn in line they could actually try to make a fight fans would like to see.
By: Chris Henderson 
You can follow Chris on Twitter @4CornersBoxing.com
Email: Chris@3KingsBoxing.com