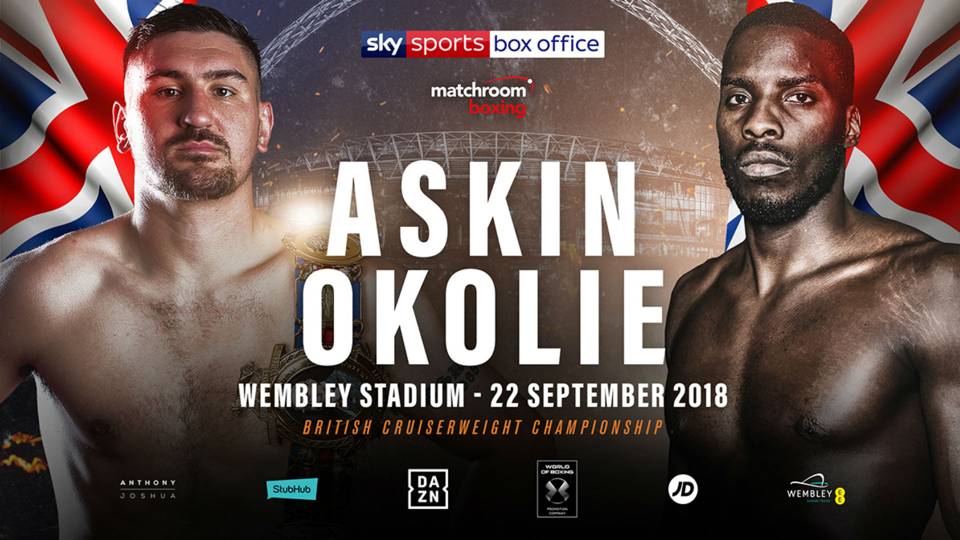 Matty Askin vs Lawrence Okolie Preview
---
This weekend, a very intriguing undercard fight will take place on one of the biggest heavyweight championship cards in 2018; Anthony Joshua vs Alexander Povetkin. British Cruiserweight champion Matty Askin (23-3-1, 15 KOs) will face rising prospect Lawrence Okolie (9-0, 7 KOs).
Askin is the more experienced fighter, sharing the ring with the likes of Craig Kennedy, Stephen Simmons and Krzysztof Glowacki.
The 29 year old British boxer has good movement, a decent jab, and is a very good counter-puncher. In his fight against Simmons, he showed he can bang on the inside and hit hard to the body.
Okolie has been a wrecking ball, steam-rolling opponents while winning both WBA Continental/Commonwealth Cruiserweight titles.
The 25 year old British boxer will have the height and reach advantage. He also maintains distance, is a good counter-puncher, and has a powerful right hand.
In the Luke Watkins fight he showed patience and good footwork. while mixing up his attack.
For Askin to win, he can't allow the young challenger to get into a rhythm, get up in his chest, or go to the body. He must use pressure and counters to frustrate the less experienced fighter.
Okolie needs to keep the fight in the center of the ring, at a comfortable range, and use his athleticism. He'll need to throw jabs while giving the champion different looks and angles and not allow it to be a brawl. Whenever the champion gets inside, he should take a step back and reset or hold.
The winner of this fight will see make a huge jump up in the rankings.
Askin has been in these type of moments before, while Okolie is new to the pressure. Fans are excited to see what happens when these two highly competitive opponents meet.
By: Garrisson Bland