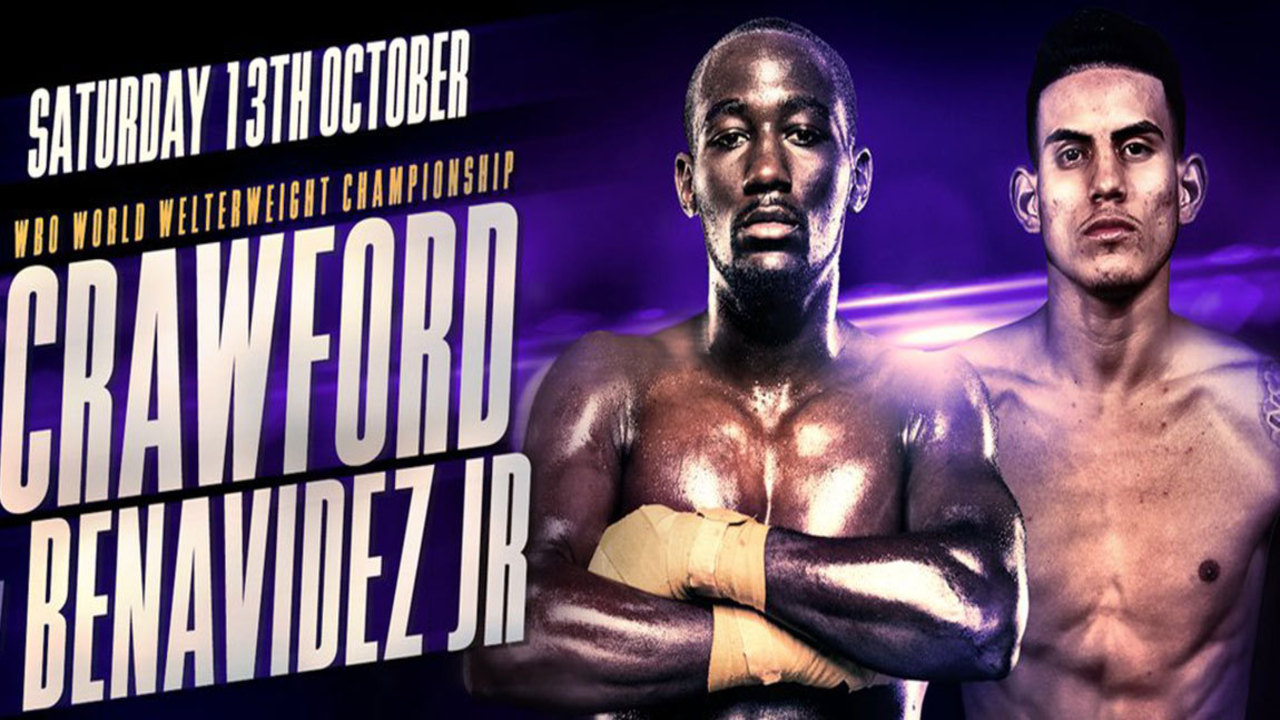 Crawford and Benavidez Jr. to Battle in Nebraska
---
"Focus on your fight"… "Focus on your fight before you don't make it to your fight"… "Let's take it outside."
The ominous warning came from WBO World Welterweight champion Terence Crawford (33-0, 24 KOs) during a heated exchange with Jose Benavidez Jr. (27-0, 18 KOs) in February. Luckily for us, the animosity between the two fighters will be settled in the ring this Saturday, October 13. ESPN will broadcast the TOP RANK BOXING event, taking place at the CHI Health Center in Omaha, Nebraska.
The dislike is real
Whether on social media or face-to-face, Terence Crawford and Jose Benavidez Jr. are never at a loss for words when it comes to fighting one another. The open challenges, banter, and fan intrigue go as far back as 2015. The trash-talk elevated to new heights this week when Crawford attended a public workout staged by Team Benavidez. The fighters and their teams verbally bashed one another with insults ranging from cultural food favorites, to betting, to derogatory terms aimed at both of the fighters' parents.
Jose Benavidez Jr.
The undefeated Mexican-American fighter is no stranger to defying the odds against him. In August of 2016, Benavidez Jr. was shot twice while walking his two pets outside of his Phoenix, Arizona home. One bullet entered his right leg just above the knee and the other grazed his right pinky finger. Subsequently, doctors would tell him he would never box again. However, the WBO challenger would prove his doubters wrong by returning to boxing and knocking his competition out.
In spite of his road back, Benavidez Jr. has to win this fight.
Many boxing fans believe he has what it takes to be a world champion. His success throughout the professional rankings, amateur pedigree, and grit are shining-lights on his potential. Others, however, question whether or not he can compete on the world-class level against this type of opponent.
Advice to Benavidez Jr: Control your emotions!
Terence Crawford
What's hidden underneath the tough exterior and sinister smile of Terence Crawford? Is the former Undisputed Super-Lightweight champion made of something different? He gets hit, smiles, and seems to enjoy the beating he puts on his opponents. Whatever the case, Terence Crawford relishes in these moments. He shows the propensity to approach his most highly charged tasks and environments with eerie intentions hidden by confidence.
In Crawford's last fight, we saw his speed and agility hadn't gone anywhere, as he was always two steps ahead of his opponent, Jeff Horn. He looked stronger than Horn throughout the fight as well. Saturday should give more insight into what we can expect from Terence Crawford at welterweight; I'm interested in seeing how he deals with the height of Jose Benavidez Jr who, for all intents and purposes, will come to fight.
Advice to Crawford: Be yourself. Frustrate, Benavidez Jr. with quick shots and footwork.
Outcome: Crawford wins by late stoppage. Although, he may prolong the fight to thoroughly beat Benavidez Jr.
By: Cessell Robinson