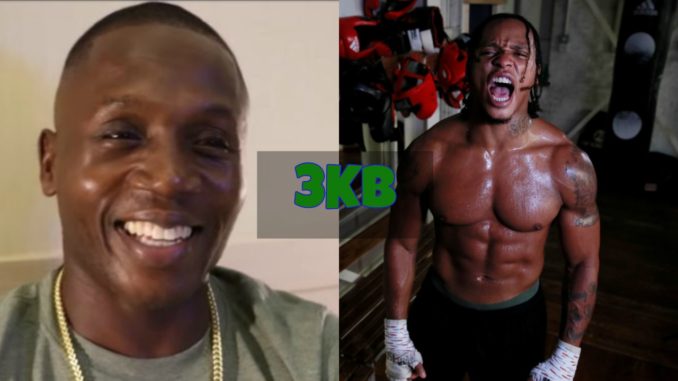 Tunde Ajayi sees super-stardom for Anthony Yarde! 
---
For the most part, throughout all their interviews in the build-up to Sergey Kovalev v Anthony Yarde, Team Yarde has remained conspicuously merry. The three-man crew has joked, belly laughed and come off happier than a Care Bear receiving a world class belly rub.
However, like chief second Tunde Ajayi is fond of saying, 'life is about polarity'. So, in a recent interview conducted by IFL TV, Ajayi presented a more subdued and reflective version of himself.
At times during the piece, Ajayi was laughing boisterously as is his want to do. However in this treatment, Ajayi became much more serious when discussing the long, toilsome road that he and Yarde had to traverse in order to arrive at this coveted title shot.
The coach thought that it was very appropriate that he and Yarde flew into Russia all by themselves, minus a large team or bulky entourage.
Although, it's been a somewhat lonely voyage up to this point, he also feels that the solitude is about to come to an end. Provided that Yarde topples Kovalev on August 24, he is certain his fighter will be launched into super-stardom.
With this new level of acclaim, Ajayi can only see Anthony Yarde becoming a huge pay-per-view star.
"Let me tell you something. On a serious note, after this fight, Anthony Yarde is a pay-per-view star. He has to be. He has to be because there is no one else of this name, of this caliber, in this division. These fighters fighting on pay-per-view, they ain't fighting the Kovalev's […] the intrigue of this fight is pay-per-view worthy."
LOVE AND BOXING
Clearly Ajayi has the utmost respect and faith in his charge. Yet, far beyond their strict professional partnership, he has genuine love for Yarde. According to his belief, that love is what makes them such an awesome force to contend with.
"Why wouldn't you want to be close to the person that you say you got their back and they've got your back? Why wouldn't you want to be close to a person that, where boxing is concerned, they've put maximum trust in you and vice versa?

"To me, a person who would say something like that really has no concept of what love is. Zero concept of what love is. You have to be close to the person that you love and I don't want no one to think I'm not close to Anthony."
Listening to Ajayi, it's clear that this two-man team are much more than merely professional team mates. Therefore, we will have to see if their skill, confidence and love will be enough to knock Kovalev down from his championship perch.
One way or another, this will be one action-packed dust-up while it lasts. Be sure to tune in!
By: Bakari Simpson