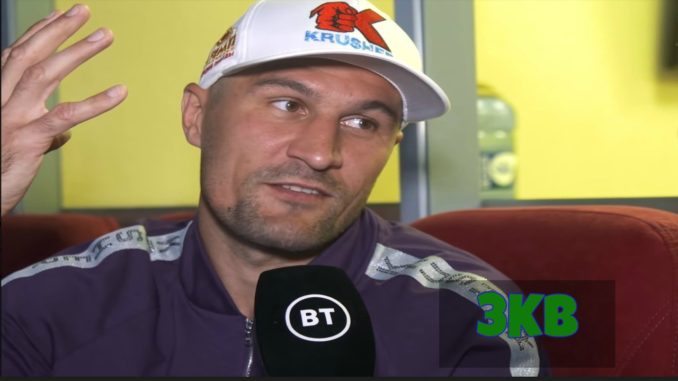 Sergey Kovalev on becoming Undisputed Champion and retiring! 
---
With their first face-off out of the way, WBO world light heavyweight Sergey "The Krusher" Kovalev was a calm and controlled champion. Having stared into Anthony Yarde's eyes, Kovalev believes that his opponent will provide a tough and interesting fight.
This doesn't mean that his self-belief is wavering. It simply indicates that the Krusher understands that he has a determined man in front of him.
"What I saw in his eyes was that he is sure of himself, you know, because he is like never been lost, you know? He believe in himself and for me and for him right now Saturday really big test, you know?

"For me because a lot of pressure from my fans, from city and for him because he is first time in Russia, you know? This should be very interesting fight really."
Along with the rigors of whatever resistance that Yarde is going to bring to the ring, Kovalev also has to deal with the pressures of fighting at home. Sure, the hometown fighter does enjoy a great many benefits like the ease of familiarity, the fans and often times favorable judging. Yet, at the same time, the hometown fighter also has the additional stress of trying to appease the fans.
This dual dynamic has proven to be tricky. Some boxers thrive under the circumstances. Meanwhile, others allow the cheering crowd to influence them into fighting reckless, unintelligent brawls that lead to making crucial mistakes (e.g. think of Maurice Hooker vs Jose Ramirez).
Nevertheless, Kovalev has faith that his experience will guide him to success. Furthermore, if he has anything, the Krusher is long on experience. While it may not seem like it, the Yarde bout will mark his 16th world title fight.
Now, the ten-year veteran does have his eyes on the end of the road.
"Everything depends on this Saturday. I have a focus for this fight and next I will be open for each fight, you know. Like for myself, what I see, like five more fights to be the undisputed champion […] I'm already old, you know. 36-years old, just like a couple more years and enough!"
There is the usual growing tired of the high demands and grueling physical requirements of the sport. However, Kovalev also seeks to spend more time with his family. The husband and father does not care for the extended chunks of time he must spend away from his family. This is one of his biggest motivators to wrap up his career on a high note and fade off into the sunset.
"I want to spend more time with my family because I don't see them. How my babies grew up, you know? Like this year is the most I was out of my family. Since May, I saw like only maybe twice on weekends each month, you know.

"It's really tough and I don't want to be father out of family. I want to be connected and give to my children right advice, right education, you know. Like everything I want to see for them for they future, for best future."
Yet, before he can claim undisputed, Kovalev must first get through Yarde! The Russian prizefight will play out either a changing of the guard, or the wily veteran schooling the cocky upstart. Be sure to tune in to find out.
By: Bakari Simpson