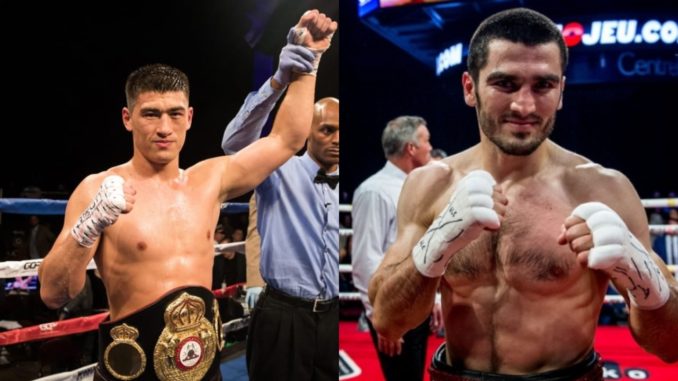 Dmitry Bivol heads to DAZN as Artur Beterbiev goes to ESPN
---
Light heavyweight champions Artur Beterbiev (IBF) and Dmitry Bivol (WBA) both make big decisions for their respective careers!
Artur Beterbiev
Beterbiev (13-0, 13KOs) has been in a bind with Canadian promoter Yvon Michel since 2017 which resulted in him only fighting once in 2018. Prior he had dealings with Al Haymon but has since left the PBC organization.
The one bout was a title defense against Callum Smith that was also his debut on DAZN. The fight was very exciting as both men touched the canvas en route to a fourth round knockout win for the champion.
Immediately after, Joe Smith Jr became the next opponent on the Beterbiev's radar. However, he was forced to cancel the bout, citing he may not be able to be ready for the fight in such a short amount of time.
Now it seems the IBF champion will opt out again as he changes homes to Top Rank on ESPN!
This is somewhat of a reunion as he won the vacant title back in 2017 by defeating Enrico Koelling on ESPN. It was believed a signing with Top Rank was going to happen then.
Dmitry Bivol
Bivol (15-0, 11KOS), last fought on HBO against veteran Jean Pascal in November on the second to last card before HBO's departure from boxing. The 28-year old would be looking for a new network to showcase his talents and given his pure boxing ability would be a good signing for anyone.
He was also connected to Joe Smith Jr prior to fighting Pascal. The possibility of the match-up had been discussed but never materialized.
The young champion would also vent his frustration about not getting big fights; even mentioning a move down in weight for a shot at Canelo Alvarez. Now that he has reached a deal with DAZN, an Alvarez match-up (though unlikely) is a possibility.
In addition, his debut bout will be a rehash of one he should have had with Smith Jr. Now this is where you may scratch your head since ESPN has signed the other three remaining champions to the network. So why wouldn't Bivol go to ESPN in order to make a possible unification easier?
However, it's worth noting both Eddie Hearn and Bob Arum have said they aren't looking to take away promotional rights to make big fights happen. Therefore, there is hope things could workout in the best interest of the sport which is what fans want to see.
2019 continues to look to be a very promising year for boxing!
3kingsboxing will continue to monitor these stories and provide updates as they develop.
By: Garrisson Bland