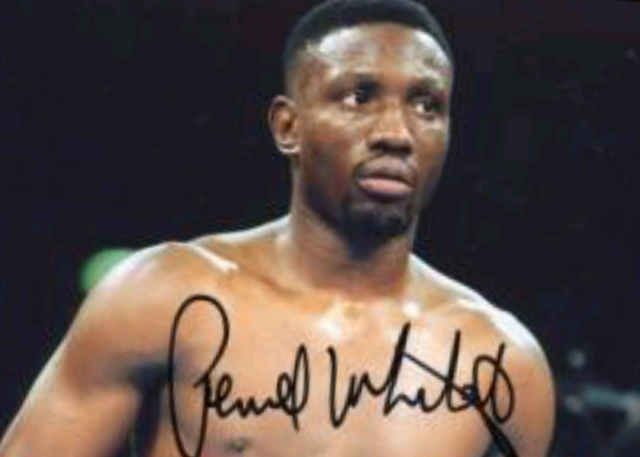 Happy Birthday Sweet Pea!
On January 2nd 1964 in Norfolk, Virginia Pernell "Sweet Pea" Whitaker was born to Raymond and Novella Whitaker. While providing a good steady upbringing his parents preached the value of hard work and self discipline to a young "Pete", as he was called. At tender age of just eight-years-old Whitaker first found his way to a local boxing gym.
Pernell fell in love with the sport right from the start, and as he entered his teens he began devoting more and more time to it. His mother once said that he would go straight to the gym after school and stay there until he was summoned home in the evenings for supper. She never had to worry or wonder about where he was or what he was doing—she knew just right where to find him.
His hard work and devotion paid off throughout a stellar amateur career in which he is on record as having 214 amateur bouts, winning 201 with 91 of those coming by way of knockout. Although, he has claimed many a time that he had over 500 bouts! The highlight of his stellar amateur days came at the 1984 Olympic games in Los Angeles, California where he was part of one of, if not, the most famous teams in Olympic boxing history. Alongside compatriots Virgil Hill, Mark Breland, Meldrick Taylor, Tyrell Biggs and of course a certain Mr. Evander Holyfield. Whitaker capped of his brilliant amateur career with a gold medal in the lightweight division.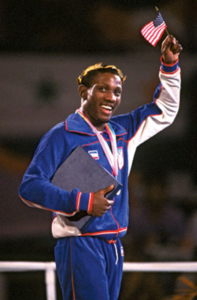 Once turning his attention to the professional ranks Whitaker quickly reeled off 15 wins that included victories over former world champions Alfredo Layne and Roger Mayweather in just his 11th and 12th fights. It would be on March 12, 1988 that Whitaker's career hit its first bump in the road, albeit very controversially. He suffered his first defeat, being on the wrong end of a split decision against Jose Luis Ramirez for the WBC Lightweight Title. Although Ramirez had previously won 100 fights compared to just 15 for Whitaker most observers felt the latter should've been declared the victor. In fact, if you were to look up boxing's biggest controversies this fight won't be too far away!
Undeterred, just eleven months later Whitaker claimed the IBF Lightweight title by defeating champion Greg Haugen in a lopsided unanimous decision. Then just six months later on August 20th 1989, Whitaker got his redemption by besting Ramirez in a rematch that took place front of a home crowd at The Scope in Norfolk, Virginia (just a mile from where he grew up as a child).
With the victory over Ramirez, Whitaker picked up the WBC and The Ring lightweight titles to go with his IBF belt. A year later he would add the WBA title to his collection by knocking out Juan Nazario in just a single round. Becoming the first undisputed champion since Roberto Duran.
Whitaker continued his rise through the boxing ranks becoming light welterweight and welterweight champion of the world. Another controversial decision appeared in the career of Whitaker as he took on Julio Cesar Chavez in San Antonio one night in September 1993. Many believed the Virginia native did more than enough to be declared the winner. However, two judges returned a draw verdict whilst the third favoured Whitaker. Sports Illustrated featured a cover on the bout with the title 'ROBBED' believing that Whitaker had won 9 of 12 rounds. The fight is available on YouTube, I'd be keen to hear your views!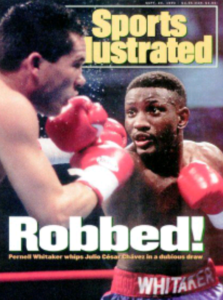 Whitaker went onto defend his welterweight belts a further two times before winning the WBA Super Welterweight belt against Julio Cesar Vasquez. Making him a three weight world champion. A return to Welterweight and five defences followed.
April 12, 1997, Las Vegas Nevada. Whitaker took on Oscar De La Hoya for not only his WBC championship. But for many the title of pound for pound best boxer in the world. Whilst the scorecards may not have flattered, Whitaker lost the fight 111-115, 110-116 & 110-116. Whitaker was able to make De La Hoya look bad at times through his crafty defense, but the offense in the fight was largely with De La Hoya. Whilst this wasn't the robbery he suffered against Chavez or Ramirez depending on what you like, you could argue he won this fight also.
Following a failed drug test post fight against Andrey Pestryaev (a fight which Whitaker originally won) Whitaker suffered his first convincing defeat. Being widely outpointed by fellow legend Felix Trinidad. One final fight followed, but it wasn't the way he would of wanted to go out. Breaking his collarbone in the fourth round of his fight against Carlos Bojorquez.
Pernell 'Sweet Pea' Whitaker was simply one of the finest defensive boxers who ever lived. A strong counter puncher, who didn't necessarily possess knockout power. Instead, he was incredibly elusive and applied a consistent offense. He was a true master of the sweet science 'Hit and not get hit'.
The Ring named him the 10th greatest fighter of the last 80 years in 2002 and he was inducted in the International Boxing Hall of Fame in his first year of eligibility, alongside fellow lightweight great Roberto Duran.
Happy Birthday Champ!
By: Aaron Cooper 
Aaron is the UK Correspondent and author of multiple columns for 3KingsBoxing.com.
Contributor: C. Henderson