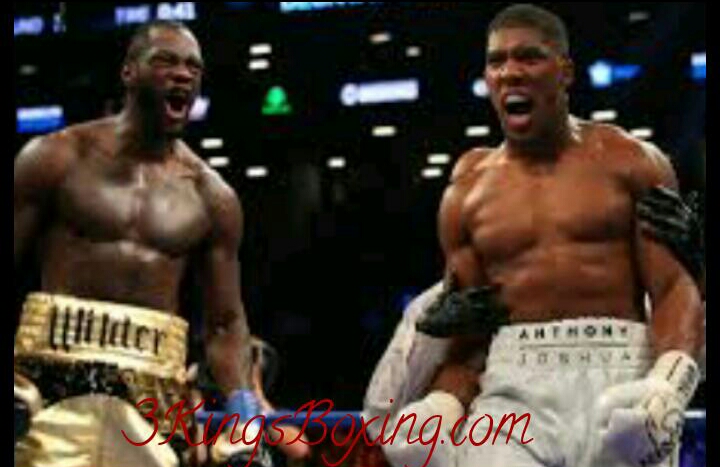 Hearn lays into Wilder over cancelling trip to Cardiff 
---
Yesterday 3KingsBoxing.com reported that WBC Heavyweight champion Deontay Wilder had cancelled his plans of going to Cardiff this weekend for the Anthony Joshua vs Joseph Parker heavyweight unification bout. Wilder was set to be part of the Sky Sports broadcast team for the bout and hopefully get the chance to confront the winner and help build up a potential clash to become the undisputed champion.
Wilder's team cited part of the reason for the American not going was because of Joshua's promoter, Eddie Hearn, and Joshua himself not wanting Wilder to more or less "cause a scene" with a confrontation in the ring after the fight. Joshua said he wasn't interested in that type of build up hype if there wasn't no contract signed.
When Hearn learned of Wilder's decision he took the opportunity to criticize the Alabama native and question his desire for the fight at Tuesday's final press conference.
"How bad do you think he wants the fight if he don't come?," Hearn said. "Don't give me all that, 'All I wanna do is unify the division.' Come. You're getting paid. You've got business-class airfares, you've got a lovely hotel. It's not like it's a chore. This is your job. But he don't wanna get mixed up with Dillian [Whyte] and Joshua. It's all bullsh*t. He's happy fighting those geezers. Watch who he fights next."

"I cannot believe he wouldn't come because he's got a brain," Hearn said. "I don't know [why he's not coming]. First he was saying about getting into the ring. The [British] Board [of Control] won't let anyone into the ring after the fight, during interviews, right? He's gonna be where you are there, right, working for Sky. Joshua's gonna be here [signifying a close distance], doing his thing. It's the same thing. And you know what? Joshua would probably invite him in the ring if he want. But it doesn't matter, because [Wilder] doesn't wanna know."

"I don't know whether, all of a sudden, he realized Dillian's coming as well, and Dillian would be breathing down his neck. Or whether he's bumskull? But I just – who is advising these people? Can you imagine how much media Deontay Wilder would get in Cardiff this week? A lot. More media than he's ever had in his last 10 fights put together. These people need advice. That's what they need."
While fans and pundits want one fight and one fight only, Joshua vs Wilder, Hearn is still interested in making a fight between Wilder and Whyte. Hearn said that he made a new offer to Wilder's team Monday evening that included a significant increase in money.
"There's people who talk and there's people who actually go about their business," Hearn said. "Joseph Parker is one that talked, but was realistic and actually wanted the fight. There are other people in the world who are talking about the fight. But the reality is, they don't really wanna know unless they get a deal that's actually not gonna happen. So forget the bullsh*t about all these other people talking about, 'I want Joshua! I want him! I'll fight Joshua!' Don't talk bullocks. You either do or you don't. We're dealing with the people that do – Wladimir Klitschko, Dillian Whyte, Joseph Parker. These are the people that actually stepped up and will take the fight. So I think it just gets [tiresome] with people talking, talking, talking."

"And then you wanna talk about this geezer, Deontay Wilder, who wants the fight so bad, and now he's talking about not coming to Cardiff. … Are you a joke? You've got the entire world media in Cardiff. You've got a situation where you've got Dillian Whyte at ringside, you've got Anthony Joshua – something's bound to happen after the fight to build the fight to astronomical levels. And you wanna sit on your ass for a so-called fight you want so bad. Don't give me that bullsh*t. All your doing is using Anthony Joshua's name. He's getting paid a lot of money from Sky to come work for them this week, and he's bumskull. Simple. Dillian Whyte's there. Anthony Joshua's there. 'Oh, I wanna get in the ring.' Bullsh*t! You're bumskulls. Don't talk about these fights if you've got no intention of taking them. We've got two fighters that would take his belt. Anthony Joshua, we know. And Dillian Whyte as well. And we've improved our offer now to Deontay Wilder [to fight Whyte]. And if he don't take this fight, he's a joke. I'm sorry."
One thing is certain, if Joshua wins this weekend we can count on the hype surrounding a Joshua/Wilder fight to only increase. It's arguably the biggest fight that can be made in the sport and the time to make this fight is now.
By: Chris Henderson