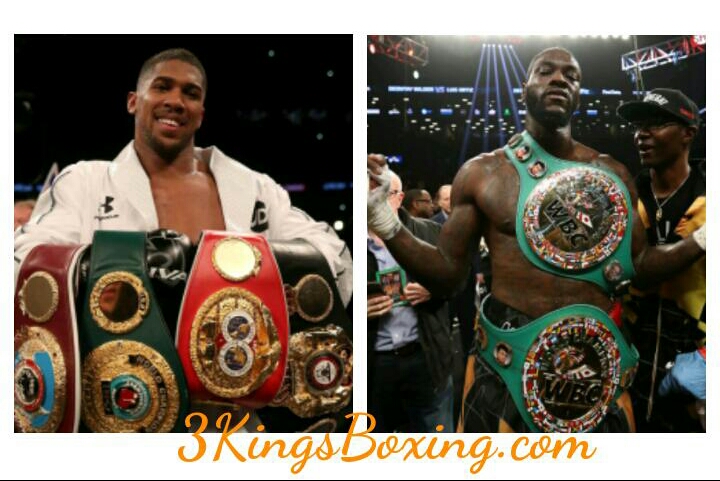 Details of Hearn's Offer To Wilder Start To Emerge 
---
By now most boxing fans are aware of WBA & IBF heavyweight champion Anthony Joshua and his promoter, Eddie Hearn, were going to make an offer to WBC champion Deontay Wilder for a heavyweight unification bout, a bout that would give boxing it's first undisputed heavyweight champion since Lennox Lewis. If you're not familiar with the upcoming "over the moon" offer Joshua mentioned to Sky Sports then feel free to read his own words below.
Joshua said: "I want that fight, no doubt about it. He was very vocal about wanting the fight before I was, because my objective was to accumulate every single one of the belts."

"Now I have done that, Wilder's my 100 per cent attention. We're about to make another offer to Wilder's team – a very good offer that should create a lot of interest from Wilder."

"Hopefully that will stop a lot of his talking and whining, and he can step up to the plate.

"I don't know about Wilder and how serious he is. If Wilder offered me the deal I'm going to offer him – to come and fight for four belts, with a great rematch clause and a great up-front clause – I would grab that with both hands.

"I would be over the moon with a deal like that, so it will be interesting to see how he takes it."
It was these words yesterday that created a stir amongst boxing fans on both sides of the pond as talk of this particular topic dominated social media forums.
This afternoon reports have surfaced in regards to the particular "numbers" surrounding this offer. The deal is said to be a "flat fee" between $10-$15M with a rematch clause for both parties. It is unclear at the moment what the terms of a rematch would be. The offer includes for the first fight to take place in the UK.
Now before fans go on the usual "it's by far his highest payday" and "he should take it" rants, remember which side of the situation you was on when Golden Boy Promotions made this same type of offer to Gennady Golovkin for an initial Canelo Alvarez fight. In that situation Golovkin held out for a better deal by getting himself a percentage of revenue.
Wilder has every right to do the exact same thing and damn well should. This is the biggest fight in the sport by far right now and accepting any flat fee would be absolute insanity on the part of Team Wilder. Realistically this offer is potentially well under 25% of total revenue and very well could be under 15%. Plain and simple it's not a good deal at this time but remember this is only the beginning so there's no reason for fans to jump to conclusions.
Let's hope for the sake of the sport and it's fans this deal works out like the Golovkin/Canelo situation and we get to see this fight next.
By: Chris Henderson