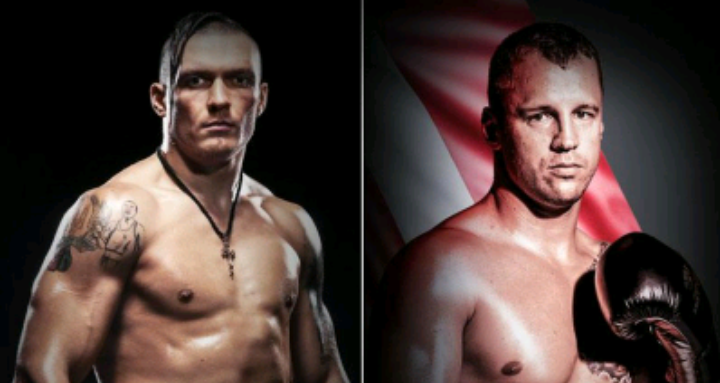 World Boxing Super Series Semifinal: Usyk vs Briedis 
---
WBO Cruiserweight king Oleksandr Usyk is on a mission. To plunder this land for gold. Order of the Three Stars Commander Mairis Briedis will square off with the raider from Ukraine. The special forces officer aims to protect his turf and WBC world title in the process.
As they prepare for battle on January 27th, these unbeaten gladiators dream about riches of a greater kingdom. In a distant port city by the Red Sea. Where one can claim a spot in the World Boxing Super Series tournament final.
Number 1 seed Usyk ventures away in his fifth consecutive road appearance. And this one is unlike any other. The delirious fans of number 3 seed Briedis  will do everything they can to rally their conquering hero. The clamorous crowd should be at dangerous decibels. Even as this semi final match flies under the world's radar, it may create a sonic boom. With shockwaves that reach far and wide. Both at cruiserweight and throughout the sport of boxing.
Let us examine how they line up. First, Usyk is a highly decorated amateur standout. He seized gold at Heavyweight in the 2012 London Summer Olympics. Briedis also brings extensive formative experience. The Latvian began his journey into combat sports winning the 2008 WAKO Full Contact European Championship in kickboxing. Beyond that, Briedis also finished his amateur boxing career with an outstanding record. Sadly for him, Usyk is a rare talent. The gold medalist snatched a world title in his 10th pro contest. Now he stares down a unification match, his biggest challenge as a professional to date.
We must note the polarity of styles. Usyk a southpaw and Briedis keeping an orthodox stance. The 31-year old gold medalist moves extremely well for a man of his measurement. He shows extraordinary quickness and agility. A fluidity of movement uncommon even for top athletes. With a nickname like  "the cat" very fitting. Add in highly adroit and immensely skilled then Usyk (13-0, 11 KOs) has the ability to mystify any opponent.
On the contrary, Briedis (23-0, 18 KOs) also draws on a fine arsenal. The 33-year old carries a distinctive edge in power. Along with a freakish long 80 inch reach. That would be unusual even for heavyweight. Briedis also displays high level ringcraft. As well as a hardy make up. An abstract quality essential for the warrior in this clash.
Here are some questions we hope to answer. Can Briedis mute the dynamic skills of Usyk? A riddle his trainer Sandis Kleins needs to help solve. Will Briedis manage to utilize his reach advantage? The exceptional footwork of Usyk makes that a daunting task. Could he find a way to land with power? Usyk is quite clever and won't make it easy. So far durability is not an issue. From what we have seen, the gold medalist would rate solid in that regard. Does the contentious atmosphere have any effect on him? Usyk's cornerman Sergey Vatamanyuk is charged with keeping any nervous energy at bay. Last, how does Usyk working at his elevated pace affect Briedis in the late rounds?
In the quarterfinals, Briedis tipped Mike Perez on the cards. Usyk halted Marco Huck just inside of 10 rounds. The remaining semifinal features IBF belt holder and #2 seed Russian Murat Gassiev vs. Cuban Yunier Dorticos, the #4 seed. This bout slated for Sochi, Russia on Feb 3rd. Victors of each are scheduled to vie for the Muhammad Ali Trophy in May.
Unfortunately, this elite level event has not accrued the proper amount of global interest. Part of that may be lack of a broadcast partner in the United States. Head promoters Kalle Sauerland and Richard Schaefer have primarily focused their attention overseas.
Further they hope to secure a U.S. deal in the near future. Pay close attention for any new updates. Certainly a duel no maven should miss. The fate of a realm is at stake.
By: 3Kings Boxing