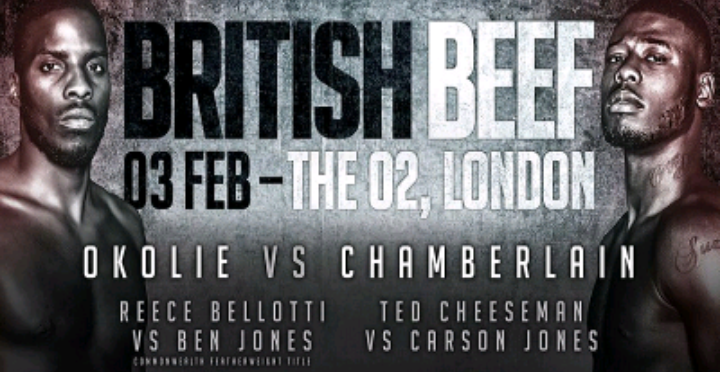 British Beef
---
British boxing on Sky Sports will kick off in a big way this coming Saturday at the O2, Arena. The 'British Beef' card bulldozes its way onto our screens, live on Sky Sports. Yet another chance for British Boxing's young hopefuls to showcase their skills and stake their claims to be recognised at one of the countries next big stars. Whilst there are many interesting fights on the card, none interests me more than the main event.
Londoner's Lawrence Okolie and Isaac Chamberlain not only battle for city supremacy, but will finally settle a score that has spilled out from press conferences to York Hall, and both have had more than their fair share to say about each other on social media.
Both men are so different in every way. Okolie is a showman, a man that is no stranger to the bright lights of the O2, having fought there once before. A showman that loves to give the fans what they want to see. So far we have seen very little of the sweet science from the Hackney man. Opting to try and blast out his opponent for an early nights work. While that has worked thus far (He's only fought 15 rounds in 7 fights), he has been caught and in my opinion wobbled once or twice. But now for the first time with him headlining the bill, facing a fellow undefeated fighter. For the first time in his career he well REALLY be expected to perform.
His opponent has come to this point via a different path. Yes he too has boxed at the O2 like his opponent. But his boxing career has had little of the fanfare that Okolie enjoyed as being part of the Rio Olympics squad. The Brixton man is not the one punch knockout artist Okolie is. But I have already seen the sort of characteristics from Chamberlain that he may need if the going gets tough. In just his sixth professional fight, Chamberlain boxed Wadi Camacho for the Southern Area Cruiserweight title. In a fight where he was the clear underdog he came back from a dislocated shoulder in the third to win on points. Heart, ladies and gentleman is simply something you cannot teach.
My predicition?
Neither man is the best cruiserweight in Britain right now. Okolie is ranked #7 and Chamberlain #9. I personally can't see either man ever becoming a world champion, I really can't see that kind of longevity in the career of either fighter. However, the British boxing fan in me loves a domestic dust up. For me this fight will hopefully answer a few questions about how far they can go, and not just if they can win the fight.
As of right now, I will side with Chamberlain for the victory. Okolie is very wild and as I've already said, I've seen him caught flush before. Whilst Chamberlain isn't a banger, he picks his shots well and his timing is far better. Add this to the fact Chamberlain has had valuable sparing in the shape of WBC & WBO champion Oleksandr Usyk and will have learned a hell of a lot. For me Okolie is vulnerable, and is an accident waiting to happen.
But as always, may the best man win.
By: Aaron Cooper