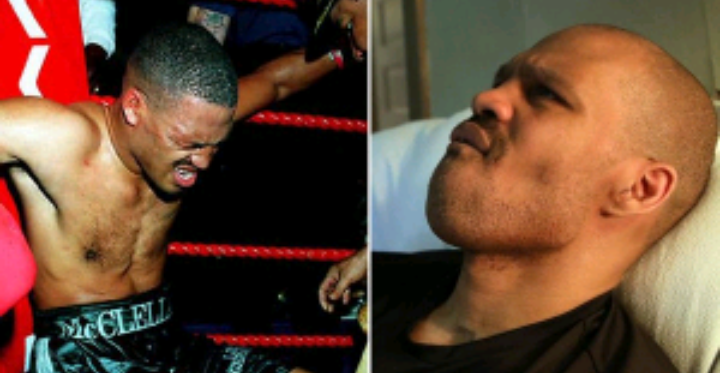 The G-Man
This edition of Cooper's Corner will take a more sombre note. I'm not reporting any news. But a friend of mine has inspired me to write this for you all today. Now I want to get real with all of you right now. Too many times In boxing groups across the world I see the term 'bum' and 'can' thrown around all too much, and frankly it pisses me off. Generally this term is used by folks that have never laced up a pair of gloves in their lives, let alone spent any time in the ring. So let me educate you folks on why you should think before you speak about the men and women that risk their lives every time they step into the squared circle for your entertainment.
Today, I want to tell you all about or remind you about the a man who's life changed forever because of the sport of Boxing, that man is The G-Man, Gerald McClellan.
Gerald Allen McClellan was born October 23rd 1967 in Freeport, Illinois. He enjoyed a great amateur career, the G Man beat future pound for pound great Roy Jones Jr on his way to placing second at the National Golden Gloves competition in 1988. He turned pro later that year under the tutelage of the late great trainer Emmanuel Steward and quickly amassed 10 straight KO victories. He hit a bump in his professional career losing twice in mid-1989, but quickly resumed his destructive ways. Knocking out or stopping 19 out of his next 21 opponents.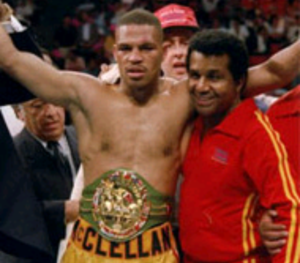 McClellan was a massive puncher, so much so that The Ring Magazine rated him at #27 on their list of '100 Greatest Punchers'. McClellan reached boxing's top table in 1991 by demolishing former Marvin Hagler victim John Mugabi in just a single round for the WBO Middleweight title. 2 years later he went onto win the WBC Middleweight title by knocking out another huge puncher in Julian Jackson in 1993. He went onto record 3 further defences of his WBC belt demolishing each foe (including a rematch with Jackson) in just a single round.
A Tragic Night
On February 25th 1995, at the London Arena, London, England Gerald McClellan stepped into the ring for what was to be the last time. Although his fighting was far from over. In a bout that was watched by a TV audience of 17 million (including this writer who was 8 years old at the time) and a paying attendance of 10,300 people. Nigel Benn and Gerald McClellan went at each other in a savage bout, two pugilists refusing to give in. McClellan manged to knock Benn out of the ring in the first round and again in the eight. But Nigel Benn wouldn't give up, and each time he worked his way back into the fight, landing power punches to the head of McClellan. Now according to his sister Lisa McClellan, Gerald returned to his corner in the sixth round and told trainer at the time Stan Johnson 'I wanna quit Stan', something Johnson denies to this day.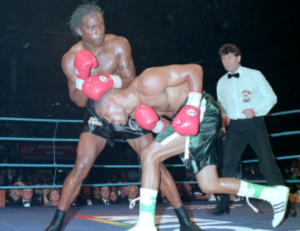 In the ninth round, Benn who was badly gassed missed with a wild punch. The force of which caused him to fall forward and accidentally head butt McLlellan. Come the tenth round (Gerald had only been as far as round 8 previously) it was clear something was wrong. McClellan was blinking constantly. A hard right caused McClellan to drop to one knee. McClellan was back up at 7. Another right hand followed, which again dropped McClellan to one knee. This time allowing himself to be counted out. Showtime's Ferdie Pacheco accused McClellan of quitting. I hope those words haunt him to this day.
McClellan collapsed on the way back to his corner. Because of incidents that had happened in Britain years prior to Michael Watson paramedics were quickly on hand to provide rapid medical attention where he was quickly rushed to Royal London Hospital …
Tarick Salmaci, a Kronk Gym fighter has gone on record to claim that in an earlier sparring session with McClellan, he began to blink in the same way as the Benn fight after landing a stiff jab, and that when he noticed McClellan blinking in the Benn fight, he knew he was in trouble.
The Aftermath
As a result of this fight Gerald Allen McClellan is blind, deaf, suffers short term memory loss and requiring full time care from his two sisters Lisa and Sandra. Now here is the kicker, McClellan was only paid $54,000 for this fight, and he received a further $100,000 from Don King as part of an insurance policy. Aside from a few fighters including former amateur foe Roy Jones Jr, McClellan was largely ignored by the boxing world. Although years later Nigel Benn and Terry Norris have gone onto to raise substantial amounts of money for the former Middleweight Champion of the world.
The result of this fight has a profound effect of many people. Gerald McClellan, lost his livelihood and his way of life, Nigel Benn struggled to cope with what had happened and has since admitted to contemplating suicide. McClellan's sisters are now his full term carers. Boxing in Britain too would change. ITV refused to air the replay of this fight and would only show one more fight on their channel in the next four years, and the British Medical Association called for the sport to be banned.
Gerald McClellan was a phenomenal puncher, a terrific boxer, a world champion and above all else he was a warrior who fell victim to our great sport. The next time you think about calling a professional boxer a bum or a can, I implore you to think before you speak and show some respect. Because these men have woman have courage beyond our comprehension.
By: Aaron Cooper
Aaron is the UK Correspondent for 3KingsBoxing.com